Jelena Jensen and her family have hired Kimmy Granger to set up for an event. As they near completion for their occasion, Jelena decides to take Kimmy into the bedroom for a break and some private time. The two girls sit down together at the edge of the comfy bed and begin talking about how beautiful the other is. Honestly, it's clear this mature MILF is coming onto our younger, shy girl when she brushes her hair out of the way. Eventually, Jelena says, "I love your little outfit. It's so cute with that lacy bra. Can I get a better look at it?" – which stages this amazing lesbian sex scene!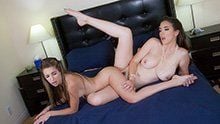 Jelena caresses the girls jacket and slowly helps her remove it.
Kimmy thanks Miss Jensen for all the compliments as she hesitantly sits on the bed almost naked in her lacy bra. The younger girl seems tense, but with a more mature woman dominantly making moves, it's easy for her to simply go with the flow. They begin to intimately kiss on the lips, pulling away only to let out two big grins.
Things move forward, and the girls are stripping naked in front of each other. It's as if the more clothes these women remove, the more comfortable Miss Granger becomes. Once they're both in their underwear, Kimmy seems to have completely relaxed, then requests for Jelena to take off her bra so she can see those big MILF tits!
Our shy girl touches Jelena's nude boobs, cupping them with both hands before moving in to suck on those nipples. After a bit of lip-smacking, Kimmy works down towards her lacy panties so she can remove those too. Finally, this innocent catering girl has totally come out of her shell!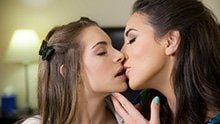 Bent over now, the petite girl has her booty up and Jelena's eyes fixated on it.
As that black, lacy underwear shimmies between her pussy lips, Kimmy's toes curl up and she lets out multiple moans. The sound of her moans is what sets Jelena off, causing her to quickly remove the girl's panties. Finally this reveals our petite chicks wet, nude pussy! Immediately she goes to town furiously rubbing that clit, almost as if this woman is trying to draw out every last moan Kimmy can muster up. After a few seconds, it becomes obvious that Jelena knows exactly the right ways to please younger girls.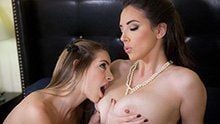 These two naked girls take it even further by grinding on each other's pussies!
Moving into perpendicular positions, our nude beauties adjust their bodies so they can grind those soaking wet pussies together. Kimmy and the MILF both happily tilt their heads back while rubbing away, stimulating each other's sensitive clits simultaneously. Once reaching two inevitable lesbian climaxes, the ringing of these women's moans bounces off the walls inside this steamy private bedroom!