Alex Grey spends Thanksgiving with her boyfriend, and the morning she's supposed to cook the girl decides to heat something else up instead! Walking over to her man while still wearing sexy morning pajamas, she starts teasing him by kissing and rubbing all over his body. Next, the guy takes her top off swiftly and seductively, showing off those perky breasts. In fact, it's only moments before Alex bends over their sink, taking fingers deep in that tight little pussy!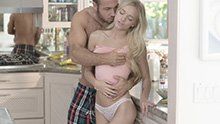 Looks like turkey isn't the only meat that's entering this girls mouth today.
Our couple gets naked and they climb up on the counter together. Finally, she slips his cock out of those plaid shorts and slides it into her pussy at what seems like lightning fast speeds! Quickly easing into a nice sex rhythm, it's clear these two are quite comfortable with each other. After riding on top for a good bit, this stud knows exactly when to flip over the naked girl, then stuff his dick in her from behind!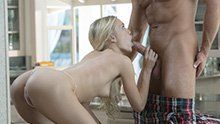 This adorable blonde girl loves letting her man take control.
While still on their countertop, he bends Alex into all fours and once again inserts that cock inside our nude babe. Spreading those legs widely for him, it's as if Miss Grey has lost touch with reality. In fact, she's totally submissive, letting out moans and repeatedly begging, "Keep fucking me harder!"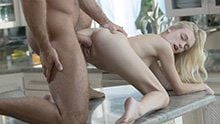 Alex looks so hot naked while having sex in mid-air!
Without missing a beat, the guy hops down and has his girlfriend stabilize herself on the edge. Spreads her juicy thighs, he slams that throbbing cock right back into her moist pussy. If you thought Alex Grey was loud fucking in doggystyle, then you're going to lose your mind near the end of their homemade video. During our whole sex scene, viewers can watch this naked girl on the brink of orgasm!
Timestamps
Below are timestamps for easily navigating to sex positions in the scene.
Source of Porn Clips
Every video is from a premium porn source, and we've included info about adult stars in our clips.
Adult Star:

Alex Grey

Premium Site:

Babes

Full Movie Length:

38 Minutes