Gina Valentina is horny today so she takes off all her clothes and puts on a pair of sexy thigh-high socks. Now that really emphasizes how aroused this teen Latina feels! While prancing around naked throughout the house, it draws her boyfriend's attention. Provokingly, he calls Gina a tease because she's clearly trying to hint at having sex.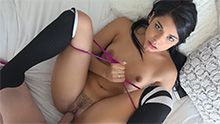 Glancing back at him as she lustfully bites her lip.
Our porn video presents the teen girl on all fours, begging for dick by spreading those thick butt cheeks. Take note, this gives us a mouthwatering view of her wet pussy. "You're so big!" she cries as the guy slides that cock into his teen girlfriend's tight little cunt. Then he grabs the back of Miss Valentina's smooth thighs and starts pounding away! Enjoying every deep thrust, she urges him to fuck even faster.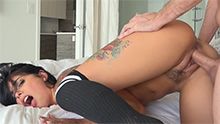 Our hot teen can't get those legs far enough apart for this guy!
Moaning and thrashing about, Gina has become so full of euphoria that she arches her neck like a porn star. You've never seen a teen with her knees further apart when it's time to have sex in missionary position. Miss Valentina's long hair drapes across the pillows while laying there willingly. And she screams, "Oh fuck yes!" once he goes back to pounding that pussy with his thick cock.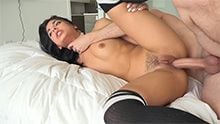 Gina shows us how real Latina's ride a dick.
Next, the teenager displays some sex skills by riding while keeping one hand free to massage her clit. Then she settles down into a slow circular grind, which must feel amazing for both of them!
Finally, the man lays Gina on her side in a spooning sex position to gently fuck. Now, this causes his girlfriend's eyes to completely roll back as he thrusts from behind. Rapidly approaching an orgasm, our teen babe moans with passion as the sex video finishes.