Molly Mae puts on some sexy rainbow socks, which stretch past her knees. Then she snuggles up to her boyfriend and drapes across his lap. During our porn video, you can tell this guy's horny since he gets a half-boner when she touches his crotch. So our skinny teen timidly fondles the man's balls through those jeans until he's rock hard. Before you know it, these two young lovers have completely committed to sex!
Clearly aroused now, Molly lifts her tight ass up for him.
Reaching around as she begins giving a blowjob, he grabs a big handful of Miss Mae's booty. Once letting go, that sexy teen ass snaps back into place because it's so toned. Therefore, her boyfriend can't resist a determined spanking! Meanwhile, this scandalous girl has been deepthroating his cock the whole time. Holding that dick with both hands, she appears to be worshipping its massive girth.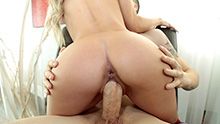 "I've been wanting to fuck you for days…" says the sex-craved teenager.
But what's surprising is how the guy instantly replies, "Me too!" After he eventually pries her face away, Molly's mouth makes a loud popping noise. Moving on now, the video pans straight to the action with Miss Mae sprawled out and ready for hot teen sex. Fingering herself furiously, the girl longs to feel a cock's penetration. When those thin fingers slide out, they're dripping wet from all the female juices. On a side note, she still has her rainbow knee-high socks on. – And that only makes our porn clip even better!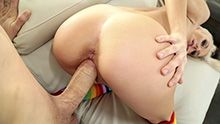 Squeezing her busty teen tits while staring straight at him.
Honestly, will this man fuck his horny girlfriend already? And that's exactly what he does next in their sex video. Completely overwhelmed by cravings, Molly looks pleased to mount him, at last! In fact, she even passionately moans "I love your dick!" repeatedly as it fills that tight pussy up. But soon, this teen babe gets winded from the frenzy of sex. After taking a breather, she twists around to keep intimately humping.
Biting her lower lip and nodding, all Miss Mae can say is "I-I-I'm cumming!" in a stammering voice. Those skinny thighs clamp around his body while climaxing, providing a firm base for a bumpy ride. Then the porn video shows how slick, swollen, and puffy that cunt appears from her orgasm. – Simply put, it's unbelievably hot!
Timestamps
Below are timestamps for easily navigating to sex positions in the scene.
Source of Porn Clips
Every video is from a premium porn source, and we've included info about adult stars in our clips.