Abby Cross is a curvy chick with an attractive, tanned body that loves having sex outdoors. This afternoon she's taking a leisurely stroll outside by the pool wearing a shiny, gold-colored bikini. While walking around, the teen babe innocently flashes her ass, which catches the attention of a nearby hot guy. In fact, each step she takes towards him consequently wiggles and bounces those buttcheeks seductively.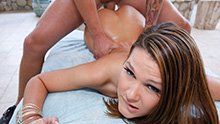 They walk back to a secluded spot where they won't be interrupted.
Once arriving in a more private area, our teen girl quickly slithers out of the bikini she's wearing, letting it carelessly drop to the floor. Abby immediately goes for the guy's belt buckle and whips out his half-erect cock. Next, she places it directly on her tongue, then slowly wraps her lips around it. Looking up at him submissively during oral sex, she inevitably makes that limp dick become hard as a rock while it's still in her mouth!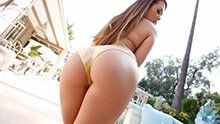 This type of intimate pleasure turns on Abby even more.
Once Abby's soaking wet and ready to have sex, he grabs her thick teen ass to express dominance. The horny slut absolutely loves this type of attention, especially when he places his hand on her lower back to stabilize her. Finally, this dude slides his huge cock right into that wet pussy. She moans when it enters and lets out a sexy, "Oh fuck… It's so tight!" as he begins thrusting repeatedly.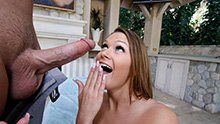 She reaches between those oily legs and spreads herself open.
Letting him slowly slide that firm dick right back inside, it's clear this girl absolutely loves doggystyle sex. Miss Cross pushes her ass back into him as he thrusts, moving those hips in a swaying motion so that dick can get as deep as possible. Throughout this whole teen porn video, viewers can watch Abby climax multiple times. In fact, the entire time she bangs with an excited eagerness that's blatantly displayed by her audible squeaks and squeals.