Kami Kari is outside wearing incredibly sexy, yet revealing lingerie. Today, she wants someone to notice how hot her big teen ass looks in that jaw-dropping outfit. With gorgeous blonde hair glimmering in the sun, this babe is bound to attract attention. Moments later, a tall tattooed man walks by and they hit it off! After messing around with some baby oil, she starts unbuckling his jeans, offering to give him a sloppy, wet blowjob.
They go to a private area where she ditches the lingerie.
Giggling in anticipation Kami says, "It's so big!" while holding onto his erect dick and kissing the tip gently. The girl affectionately caresses it as if she's savoring every moment of sex together! After a bit of deepthroating, this horny chick suddenly gasps, "You're getting bigger!" – Which is the dude's queue to take our hot teen to her first sex position.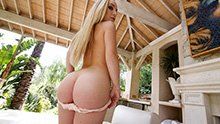 Kami is a sexy teen with mad twerking skills!
Laying down facing the ceiling, the blonde bombshell has those ripe teen tits held with both hands. Her legs are widely parted, giving the man an impeccable opportunity for some good fucking. That big cock slides in and out, pleasuring Kami's pussy so much that she whispers while moaning, "Yeah… Right there…" He must've hit precisely the right spot inside that glorious, slick snatch!
If you thought this girl was good at taking it, then you haven't seen her twerk yet! She mounts him, wiggles that thick booty onto his dick, and begins one hell of a teen sex show. Miss Kari has some serious riding experience because the way she's bouncing is practically hypnotic.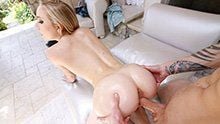 Every thrust against that big, curvy ass makes it jiggle.
The guy holds onto Kami's waist with both hands and begins pounding that pussy in doggystyle. In fact, those repeated rams cause her asscheeks to ripple from the pressure! It's like the icing on top of a teen sex video that's already so hot. Nevertheless, even after being fucked so hard our horny babe still has a sexual appetite that has yet to be satisfied.
Kami sticks out her precious, pink tongue and looks up at the man she's having passionate sex with. Every one of her sensual thirsts is quenched, except for one crucial piece of the puzzle. She begs, "Please, cum all over my face!" as he jerks off, ready to give the teen what she desires.