After a few initial sucks of that big cock, frisky teen Kimmy Granger is ready for doggystyle sex! She looks so hot wearing a pink one-piece bodysuit while getting this dude hard as a rock. Without any hesitation, our brunette babe closes her eyes as he slides inside. During the entry, she lays in awe while enjoying every inch of girth!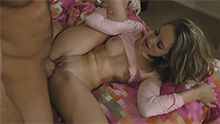 Miss Granger delightfully giggles, "You're so fucking big!"
This horny teen chick even exclaims, "I love your cock!" as he speeds up his thrusts. Soon enough, Kimmy climbs on top for a wild sex ride, then twerks with her cheeks bobbing fast. But she isn't a tease. Our teenage temptress actually repeatedly gulps his dick all the way into her pussy! "Don't stop, please keep fucking me!" she begs as his balls slap against her clit, stimulating it immensely.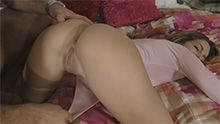 Looking back to watch her petite ass get pounded.
While riding on top of this study stud, the teen keeps gazing back at her ass. Additionally, each time she does, it's met with a mischievous smile. Watching Kimmy's petite body hump him in our sex video is such an arousing sight. But once they lay on their sides to spoon, the young girl finally gets a good look at the cock pounding her. "I'm going to squirt!" she screams as those titties bounce during every thrust.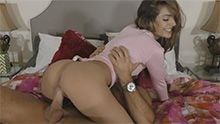 The teen stays submissive while they have sex.
After winding up on her back for missionary sex, Kimmy zones out as she's dominated. The teen's truly enjoying his rod, moaning in pleasure when it goes deep! In fact, this chick lifts her feet up high and grasps them so he can completely fill that pussy. "Look at me and stay right there," he commands. And that's when Miss Granger flashes him a sexy smile as they rapidly fuck toward climax!