As our sex video begins, grunge teen Shae Summers looks incredibly hot in a knitted, red hat. She's rubbing and squeezing her big titties for the new man in her life. Next, this chick's eyes seem to light up when he mentions how beautiful those blowjob eyes look. In fact, the praise makes our teen so happy that she drops her black lace panties.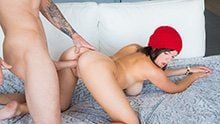 This pretty teen is proud of her oral sex skills. But his dick is huge!
While he watches, Shae sticks that big ass in the air, then spreads her tight pussy apart. After mentioning she's famous for blowjobs, this bragging babe attempts to suck his huge cock. However, that monster-sized dick is the biggest Miss Summer has ever seen. Unfortunately, he's too large to fit between those tiny teen lips. Although, that just queues the man to flip Shae over and begin having sex with her in doggystyle!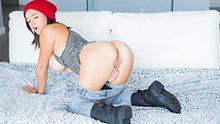 He has to start off slow before going deep since she's so tight.
Rubbing his thumb against her ass, this dude wants to give our teen some anal! All this pressure makes the young girl perk up in surprise and delight. Consequently, she arches that thick booty for an even better fuck. On a side note, the man can't help but give Shae a few slaps on the ass during this deep-dicking! While bucking hard against that cock, Miss Summers stays in total bliss from the pleasure.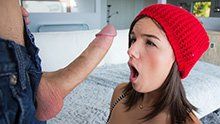 The young teen hottie has those ankles to her shoulders!
When our teen flips over for missionary-style sex, she's eager to continue fucking. So Shae pulls her own knees all the way up to those big titties. Finally, this dude rams his impressive dick straight back into that shaved pussy. In fact, it continues to gleam and twitch as he pounds away! During the entire sex clip, she encourages him with moans, groans, and screams of ecstasy.
Timestamps
Below are timestamps for easily navigating to sex positions in the scene.
Source of Porn Clips
Every video is from a premium porn source, and we've included info about adult stars in our clips.