Teen babysitter Malina Mars is so cute that you'd never believe she's a kinky sex goddess. After completing a babysitting job for a male client, she lingers around with the hopes of persuading him into having a little fun 'off the record'. Thinking his babysitter has left for the day, the guy goes to lay down and take a nap. However, Malina secretly follows into the room, closes the door behind her, and admits she has a crush on him while taking off her clothes!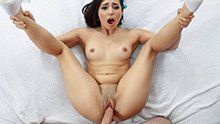 Who said babysitting has to be boring?
This dude simply cannot resist it when Malina crawls onto the bed and pulls out his cock from those constricting pants. Her big, brown eyes stare up while sliding it down her throat, then arousal continues to build when she's practically gagging on him. But this sex scene really raises your eyebrows when the teen releases her lips from that dick and looks up innocently to utter the words, "Please fuck my little pussy."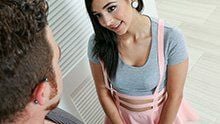 She grinds her beautiful body on him, slowly increasing the momentum.
Hovering in cowgirl position, Malina grasps his manhood in her hand and inserts it directly into that tight pussy. She rides slowly, swaying her hips on him in an intoxicating motion. Those cute teen tits rock in unison as she makes love to his big cock, but things begin to speed up when she starts thrusting those hips! With a huge grin on her face, it's almost as if she can't believe her fantasy is coming true.
Spanking only makes her hornier.
Changing positions now, the sexy teen rolls over onto her knees to begin banging from behind. He spanks this naughty babysitter's ass as she bounces back and forth on his dick. Between her moans, the teen screams in pleasure, "Your cock is so big in my little pussy!" Not to mention, this sex scene continues heating up with a hot camera shot of Malina's thick ass!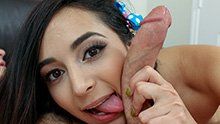 Malina's flexibility is coming in handy!
Rolling onto her back, she spreads her legs wide open, ready to have some deep sex. In fact, it resembles that of an acrobatic goddess! The teen holds up both those ankles to her chest as this guy repeatedly thrusts his entire huge cock inside her. Letting out joyful moans, Malina lustfully sucks on his finger whilst being dicked down because this hot brunette can't get enough pounding in her tight pussy!
Moving into reverse cowgirl, she twists herself in different positions, angling his entire shaft into the right spots. With climax nearing, it's almost surprising that this gorgeous teen babe isn't continuing their wild sex all night long!
Timestamps
Below are timestamps for easily navigating to sex positions in the scene.
Source of Porn Clips
Every video is from a premium porn source, and we've included info about adult stars in our clips.
Adult Star:

Malina Mars

Premium Site:

MyBabysittersClub

Full Movie Length:

24 Minutes