Amateur babe, Eva Lovia is tired of her boyfriend's pranks, so she decides to get him back by filming a hot gag. Our beautiful brunette hides his car keys in the oven, which heats the metal up. When he's looking for them, Eva shouts from the room over saying, "In the drawer!" Once this dude goes to grab the keys, they're scorching and burn his hand. But the fun doesn't stop there because she feels bad and gives him make-up sex!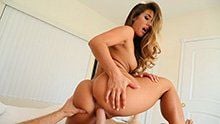 Playfully dragging her boyfriend by the hand for make-up sex.
Eva climbs up on the bed, gets on all fours, and shows off her big ass in a pair of sexy booty shorts. Miss Lovia has a gorgeous, yet devious smile as she teases the guy by enticingly wagging her hot ass back and forth. While smacking that butt in a playful way, the horny amateur smirks. Tauntingly, she apologizes for being such a naughty girl, then promises to be better to him.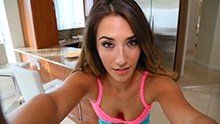 Eva's silly prank quickly turns into an amateur porn video!
The dirty girl is clearly horny for sex, so our amateur drops down to her knees to give a deepthroat blowjob. Unbuckling and unzipping the man's pants, she pulls his dick out like unwrapping a piece of candy.
While gripping that rock-hard cock, Eva gracefully plops it into her mouth. And those big brown eyes and pretty little face look so sexy as she engulfs the giant dick between her lips. On a side note, they're both loving every second of it! But before long, this top-rated amateur porn video spices up even more.
Tearing off her shirt then hopping on a huge dick.
Our gorgeous brunette pushes the tip of his cock against her hairy, yet groomed pussy then slides it in. As she begins riding like a cowgirl, those big boobs bounce up and down, swaying with the motion of her hips. Squealing and shaking with delight, it's almost as if Eva's beautiful body was made for porn! Not to mention, the fact he's recording an amateur sex video only makes her even hornier.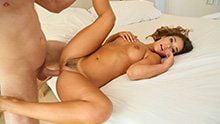 Her big ass is so thick… It's actually jaw-dropping hot!
Turning around to ride in reverse cowgirl, the boyfriend now has a nice point-of-view of Eva's big ass. However, that only lasts for about 30 seconds because this guy wants full control. So he guides her onto all fours again with that booty arched seductively. Finally, she accepts his huge cock deep inside her pussy. As the man penetrates, he smacks that round, sexy ass, letting her know she was a naughty girl.
After a bit of dick-riding, the stud flips his tiny amateur slut over and continues pounding away. As a matter of fact, every thrust makes this chick moan for more! During our porn video, they fuck passionately, going at each other like a couple of amateurs. Surely, Eva Lovia is an adult star who has learned her lesson on pranks from their hot make-up sex!
Timestamps
Below are timestamps for easily navigating to sex positions in the scene.
Source of Porn Clips
Every video is from a premium porn source, and we've included info about adult stars in our clips.