Sydney Cole greets her professor with a flattering, "Hello!" then does a curtsy since she has a mini skirt on for the occasion. But it's obvious this girl wants him to see a peek at those thin panties underneath. Our flirty blonde asks, "Like what you see?" while performing a little striptease. Moments later, she takes off all her alluring clothes to get naked!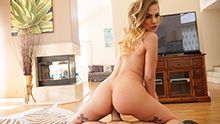 Right away, Sydney gives him a nice wet blowjob.
Shoving his big cock between those moist lips, this hot chick only stops sucking to show him a naughty grin. Although, our schoolgirl can't contain her lust for the professor. Therefore, she crawls up on that dick like a cheetah stalking its prey. Starting to bounce wildly now, the naked girl authentically moans. And each time it fills her pussy, Sydney sways to let him feel the inner warmth.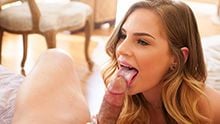 Fucking this nude babe with an incredible view.
Winking at our camera, Miss Cole sucks on her fingers to moisten them nicely. Then she erotically slides down toward those pussy lips and rubs her pulsing clit. Watching Sydney masturbate during sex is such an amazing nude sight! In fact, the professor seems to agree because he begins fucking our naughty girl even harder.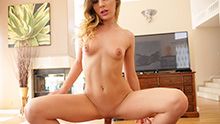 Educated men know how to make college girls cum fast!
When she twists around to have sex, it shows him that tight college ass at the same time. Enjoying her invitation, he squeezes every last inch of Miss Cole's irresistible nude booty. Gasping helplessly now, this babe has reached a point of no return. Provocative moans of, "Oh, fuck yes!" signal that she's about to cum. Then the naked schoolgirl orgasms all over her teacher's dick!
Timestamps
Below are timestamps for easily navigating to sex positions in the scene.
Source of Porn Clips
Every video is from a premium porn source, and we've included info about adult stars in our clips.
Adult Star:

Sydney Cole

Premium Site:

POVD

Full Movie Length:

34 Minutes