When this solo sex scene starts you see Ashley Lane standing alone in a hallway wearing a light blue gown. Any viewer could tell this babe is having dirty thoughts as she slowly runs a hand down her smooth, pale thighs. Soon enough, the girl shows her nude breasts and pops out a pair of modest-sized tits. Not to mention, those hot boobs are accompanied by some soft, puffy nipples too! Next, she turns around and asks you to touch and feel how firm her ass is.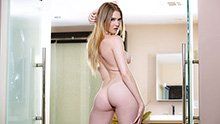 Ashley Lane is completely naked and totally ready
Clearly, Ashley wants it badly! Now the girl brushes that long, strawberry blonde hair back. When her thin clothes drop carelessly to the floor, we can see that sexy naked body. While wearing high-heels, it makes Miss Lane's ass look absolutely stunning. Just the way they naturally make her back arch is such a lust-inducing sight.
As she shakes playfully, that booty modestly jiggles around a bit. Once seated, the naked girl spreads her legs, revealing a freshly shaved, damp pussy. As a matter of fact, viewers are able to see every last detail, including her cute, pierced clit! Sliding a hand down those thighs now, Ashley gracefully slips off her heels. Like any horny woman, she tosses them aside to inevitably strip totally nude!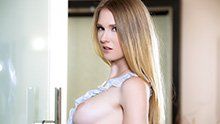 Time for things to get wet with a sexy nude shower!
The beautiful woman steps into the shower, one foot at a time, and lets the hot water run down her nude body. Listen to the moans of delight from its warmth while she rubs oil along that soft skin. On a side note, her naked figure has become sleek and shiny. Then the girl bites a pair of glossy lips, spreads those divine legs, and turns around to scrub that ass clean.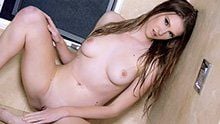 Sitting down on a ledge next to the steamy window.
Starting to play with a soaking wet pussy, Ashley groans as the pace rapidly increases. Miss Lane doesn't appear to need a powerful vibrator because her fingers are doing such a good job! With one hand, she gropes her amazing tits, and the other strokes a quivering cunt. Lust runs through Ashley's mind as she bites her gorgeous, puffy lips once more.
Before long, our naked girl nearly cries out in pleasure while rubbing that clit till cumming! So have you ever actually witnessed a hot blonde orgasm this hard in the shower? – Because it's truly a mouthwatering sight!
Timestamps
Below are timestamps for easily navigating to sex positions in the scene.
Source of Porn Clips
Every video is from a premium porn source, and we've included info about adult stars in our clips.
Adult Star:

Ashley Lane

Premium Site:

Twistys

Full Movie Length:

10 Minutes