Kymberlee Anne is an adorably cute, raven-haired girl who has recently moved to the big city. Back in her hometown, she previously had a boyfriend but admittedly decided to move on because he was too clingy. The guys have a good laugh about it, then soon enough this gorgeous girl has another confession to make. To put it simply, Kymberlee has a bicurious infatuation for other girls and tells them it's because of how sexy women are done-up with makeup and a cute outfit.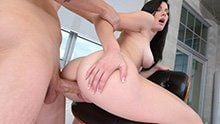 Luckily for us, Kymberlee does a great job at looking incredibly sexy too!
Our sex video really begins to spice up when the girl takes off her top to show off a busty pair of natural tits. Putting herself on display, those naked boobs flop out like they're eager to get free and breathe.
Then from memory, she lists off a few quick ways that a man can get into her pants. First, it heavily depends on the situation. However, if Kymberlee is horny enough she picks out the first hot dude she sees and asks if he wants to see her naked. Finally, this girl discusses how the most important factor of men is personality because if you can make her laugh she'll strip nude for you too!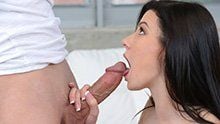 Talking about fucking has made this naked girl extremely horny.
After completely stripping, this babe has one more modest request, "The best trick to making me cum is to rub my clit while we fuck!" With an innocent smile, our girl then grabs his belt buckle and pulls out the guy's cock. In the blink of an eye, she starts sucking this man off, getting him hard enough so they can enjoy a hot session of full-on naked pounding. Honestly, the way her moist lips gently wrap around his shaft is so incredibly sensual. Therefore, it's not long before that dick is fully erect and ready to bang this girl's pussy.
Kymberlee eagerly bends over on a nearby chair so he can mount her while still standing up straight. Sliding his cock directly inside now, this woman's moans immediately fill the room. In fact, it's as if she's wanted to have sex all day! Not to mention, this chick looks jaw-droppingly sexy fucking from behind. Miss Anne grabs the back of a chair, bites those lips, and braces herself because when she sticks out those nude hips it enables just the right amount of leverage for the man to start thrusting!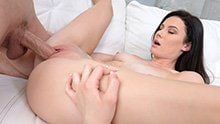 Engulfed with ecstasy, they move their sex to a more comfortable spot.
Next, our naked girl moves over to the couch and switches into missionary position. Laying on her back and spreading those nude thighs, it allows this guy to totally dominate Kymberlee from above. Paying close attention to the girl's body language, he's doing his best to sexually please her. In fact, that's why it's no surprise when he begins rubbing that clit with his thumb while they fuck!
Finally, Kymberlee climaxes in a way that resembles waves crashing against cliffs. Squirming in pleasure, the naked girls pussy clenches on him as she cums. From the sight we just saw, it's safe to say Miss Anne will feel right at home in the city.
Timestamps
Below are timestamps for easily navigating to sex positions in the scene.
Source of Porn Clips
Every video is from a premium porn source, and we've included info about adult stars in our clips.
Adult Star:

Kymberlee Anne

Premium Site:

RealityKings

Full Movie Length:

28 Minutes