Watch the Full Video in 1080p (22 mins.)
Sydney Cole is doing some yoga on her exercise ball when a cute guy comes along. She begins to flirt with him, and they don't waste a single second getting undressed in this hot clip. The amateur girl shows off the shiny piercings on her lower back, and she wiggles that tight ass out of the pink thong she's wearing. Then finally, she slides those tiny panties down past her long white stockings, kicking them aside and giving the camera a cheeky grin.
You won't believe the positions this amateur girl can get into.
The horny babe climbs up onto the exercise ball and begins rubbing her tight amateur pussy for the camera. Sydney's piercings and tattoos look incredibly sexy, and they really compliment her stunning body. In fact, with an athletic body like that it's clear that this chick spends a lot of time doing yoga to look incredibly hot for her own amateur porn videos.
Using her flexible yoga skills, she bends over the exercise ball backwards and starts sucking his huge cock practically upside-down! She sucks and slobbers all over it from every angle, making sure the stud feels great as he pushes his shaft deeper into her throat. There's no chance that this is the first time this amateur girl is doing such crazy, acrobatic sex positions. Seriously, the way she does it just looks so natural!
This flexible babe bangs like a porn star!
Sydney then flips over, balances on the yoga ball and lets him bang her in doggystyle. The way the beautiful babe looks back at the guy while taking his dick makes her look like an amateur porn star! The stud then takes advantage of her flexible body and repeatedly shoves that cock all the way into her dripping wet pussy. She's loving it and becoming more and more turned on with each thrust he gives her.
The amateur chick is really starting to get into this sex session and wants to change things up. She climbs on top of the guy and starts bouncing her big blonde heart out, riding his thick dick and making sure it's hitting all the right spots. For as small as this girl is, it's amazing how she can fit that huge cock inside her pussy! In fact, she's taking it so deep that you can practically see it bulging out of her tight, flat stomach.
Somehow this chick is even hotter from behind.
She has gotten super wet while riding him and decides to take full advantage of her slippery pussy. Showing off her big, sexy ass, she turns around and slides on his dick once again. You can see the cute bow-tie tattoos on the backs of her thighs as she rides that enormous cock in reverse cowgirl. Every thrust makes her athletic, yet bubbly ass bounce and jiggle in the most enticing way. Overall, you need to watch for yourself to understand just how hot this porn video is!
Photos: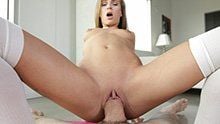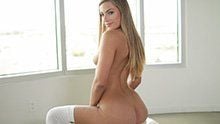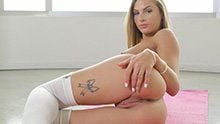 Timestamps:
Below are timestamps that can be clicked on to easily navigate to specific sex positions in the video.
Where can I watch the full sex video?
Every video we upload is originally from a premium sex video site. Below is some information about the adult star in this scene, and where you can watch their full length movie in addition to the free HD clips we upload.