Chessie Rae is a young porn star who's hanging out with her boyfriend. In today's video, they're putting on a hot sex show for our viewers at home. So what's the first thing he does when his horny teen girlfriend strips off her top? Well, any guy would lift that naughty babe up to straddle him. Now rubbing the topless girl's big tits, she lets the man squeeze them too.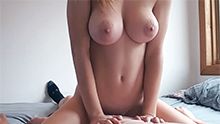 Nothing is hotter than a topless teen dry humping you.
While unzipping a pair of denim booty shorts, Miss Rae does a little shimmy with her hips for the sex video. Clearly, our teen understands that she's a real-life wet dream. As Chessie rips her panties off, the porn clip only continues to get better. Now fully naked, she doesn't even know she'll cum not long after beginning to ride him. Yeah, teens can hump men in just the right ways so it feels incredible for both of them.
Anyone watching the porn video can practically feel the lust between them. Finally, she mounts that hard cock then buries it deep inside her tight wet teen pussy. And the next words out of her mouth are, "You're so big! I love it." Best of all, this guy didn't even have to lift a finger because his girlfriend wanted to have sex so badly!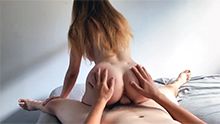 So who else wants to fuck a teenage babe on video?
As the riding ensues, he goes right back to massaging her nipples. Meanwhile, the teen girl gets into a hot sexual rhythm of humping. After each thrust, she gasps, "Fuck me!" between countless horny moans. Without a doubt, Chessie likes rough sex since it doesn't much more pounding to make her shout, "I'm close to cumming!"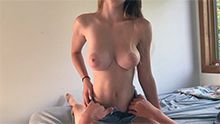 That pussy gets even wetter when she's about to cum.
Instead of just reaching around to squeeze that curvy teen ass, he spanks it hard too. Sure enough, this added stimulation swiftly propels her toward a powerful orgasm. Suddenly, Miss Rae's pussy quivers and she screams, "I-I-I'm cumming, baby! Oh, yes!" Then her jiggly thighs clench together as she climaxes. Wow, what a memorable ending to a teen sex video full of topless humping!
Timestamps
Below are timestamps for easily navigating to sex positions in the scene.
Source of Porn Clips
Every video is from a premium porn source, and we've included info about adult stars in our clips.
Adult Star:

Chessie Rae

Premium Site:

PornhubPremium

Full Movie Length:

18 Minutes