Hot teens with big booties like Daisy Stone love an oily rubdown. And today, a man is caressing that ass all over for our sex video. This babe certainly has strong glutes because those juicy curves are astounding! In fact, her thickness gleams from the moisture he spread around. Then she asks, "Do you have a boner" while reaching back to fondle his sweatpants.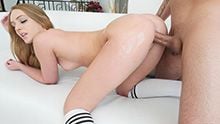 After the oil drips into her pussy, sex soon follows!
Shortly, Miss Stone whips out the guy's shaft and appears delighted to give a blowjob. First, our hot teen girl admires his massive girth before kissing the tip gently. Finally, she begins licking, slowly working toward full-on strokes. Not to mention, that stunning round ass peeks out from behind her since it's so big. These two lovers seem like they can't wait to start having sex!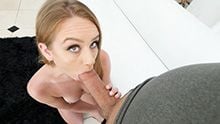 Dominantly instructing the teen to turn around.
Dribbling a few more drops of oil on the teen's booty makes inserting that cock an easy task. Once it fills Daisy's pussy up, she lets out a long, pleasurable sigh. Thrusts commence from behind, and a quick spank on her buttcheek reminds us who's in charge. Notably when he commands, "Shake your ass on me!" during their sex, which she happily complies with.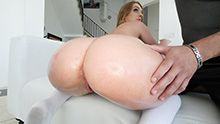 Swapping to a hot point of view sex position.
Miss Stone hops on top to ride his throbbing cock cowgirl-style. Now she can grind while giving us a satisfying closeup of that oiled-up ass! Then our lathered up teenager gives him some nice twerking as her face is pressed into the soft cushions. And since Daisy's sensitive clit gets massaged by the pressure, she'll definitely climax soon. – Especially when humping in a total frenzy!
Timestamps
Below are timestamps for easily navigating to sex positions in the scene.
Source of Porn Clips
Every video is from a premium porn source, and we've included info about adult stars in our clips.
Adult Star:

Daisy Stone

Premium Site:

TeenCurves

Full Movie Length:

34 Minutes