Sitting on her bed, Layla London can't seem to figure out her math homework. In fact, this girl is complaining about it so loudly that her stepbrother comes to see what's up. She asks him for help since he's passed the class already, but the guy declines to help his stepsister unless she gets naked! At first, Layla says it's too risky, but this babe doesn't need much convincing before taking off all her clothes.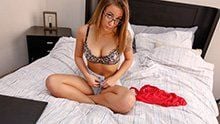 The stepsister begins stripping nude for him!
Miss London slides off her red tank top to reveal a black and white bra underneath. In fact, her boobs are so big that they're practically bursting out! Next, she unfastens that bra and lets it fall on the bed, which allows this dude to see an x-rated look at his stepsister's naked tits. After a little fondling, it's about time for this sexy chick to remove the rest.
The stepsister slips her skimpy panties off, unveiling a tight, moist pussy. Although Layla is completely naked now, she still wants to keep her glasses on for a good look at her stepbrother's cock. Moving to her knees, she takes his dick and starts licking it, moving that wet tongue in circles around the tip to tease him before deepthroating the whole thing!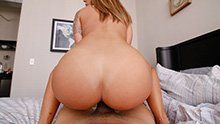 That's enough foreplay, this babe wants to have sex!
Turning around, the naked girl displays her big, juicy ass to him. It's clear she wants to be fucked, and there's no better position to do it than doggystyle! Therefore, the guy grabs onto her thick booty and slides his cock into his stepsister's warm pussy. Beginning to pump vigorously now, Layla moans in sheer pleasure and backs her ass into him to push that dick even deeper inside.
The view of this hot girls naked backside is downright amazing.
Layla mounts the man, facing him with her naked body and sitting on his huge cock. Riding him like a girl, she throws her head back in pleasure as those big tits flail around. In fact, this dude can't believe his super hot stepsister is actually fucking him!
Echoes of Miss London's lustful shrieks fill the room as she swivels that booty around to twerk on him. Finally, she bounces that ass on his cock while occasionally looking back to see his priceless reaction. Clearly, Layla wants to make her stepbrother cum and she knows exactly how to do it!
Timestamps
Below are timestamps for easily navigating to sex positions in the scene.
Source of Porn Clips
Every video is from a premium porn source, and we've included info about adult stars in our clips.
Adult Star:

Layla London

Premium Site:

SisLovesMe

Full Movie Length:

36 Minutes