Shane Blair has a horny stepbrother that can't keep his hands off of her. After all, she's such a sexy sibling! When finding her sleeping naked, this dude sneaks in closer to grope those perky bare tits. Unable to help himself, he slips his cock into the girl's mouth and gently face-fucks her. Meanwhile, our naughty nude babe pretends to still be asleep because she's secretly loving it!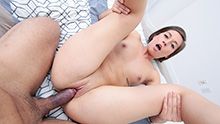 Shane actually enjoys tasting her stepbrothers cum.
When he inevitably busts a nut, the stepsister swallows its entire load. Continuing to play along, she rolls over and acts as if nothing happened. Skipping forward now, Miss Blair agrees to give him a handjob. However, no matter how much he begs, Shane doesn't let this guy bang her. But once those hands are rubbing all over his erection, she becomes horny enough to fuck!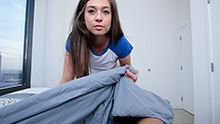 Surprisingly, this hot chick wants a bouncy ride on top.
"I changed my mind…" says the stepsister while removing her clothes to get naked. All of a sudden, she pushes him onto his back and grinds a wet pussy along his dick. Precum mixes with her natural juices, which makes sex with tight nude girls like Miss Blair a piece of cake. She begins humping, then gazes down at the man, not caring how taboo they're being.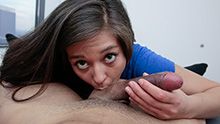 Their constant fucking leads to a stepsister creampie!
During our final scene, Shane nervously mentions that they need to talk. By the looks of it, she seems concerned about their recent intercourse. But instead, this little minx actually wants to have sex more often! Therefore, his stepsister drops to her knees for a passionate blowjob. Then before you know it, the girl's naked again and letting him thrust that dick in from behind.
Timestamps
Below are timestamps for easily navigating to sex positions in the scene.
Source of Porn Clips
Every video is from a premium porn source, and we've included info about adult stars in our clips.