During today's sex video, NoFaceGirl wears an attractive, sporty jacket. When a guy notices how hot she looks, he comes over to jiggle and smack those juicy butt cheeks. In fact, it's obvious the man likes playing with her thong since this dude can't keep his hands off that big naked ass! As a result, every squeeze makes the horny girl moan from pure desire.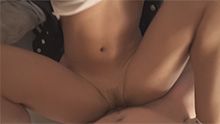 Little sounds of pleasure prove she enjoys blowjobs.
Our beautiful babe whips out the guy's cock because they've both silently agreed to fuck. Now giving a blowjob, she only stops sucking to sensually slap the head of that dick against her tongue. Next, this chick provocatively licks his thick shaft before smothering it again. But once he holds back the naked girl's pretty brown hair, we get an amazing view of her deepthroating him.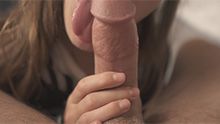 Yanking off those panties, leaving our girl completely nude.
NoFaceGirl can't wait to feel his big cock thrusting inside that naturally wet pussy. Therefore, she removes her sexy thong and flings it aside. Fully naked now, the enthusiastic woman spreads those legs with a huge, inviting smile. Honestly, it's hard to believe there are girls who love getting fucked this much!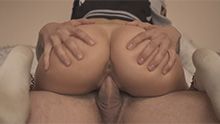 She breathlessly whispers, "Let me ride you…" and mounts him.
With her captivating nude thighs in a humping position, she squirms back and forth. At the same time, he guides our seductive woman's waist while serving as a sturdy base. And each repeated grind causes those big natural boobs to flop around carelessly. When naked girls accelerate this fast toward cumming, the sexier they become. Suddenly, our alluring couple climaxes together, giving her a deep juicy creampie!
Timestamps
Below are timestamps for easily navigating to sex positions in the scene.
Source of Porn Clips
Every video is from a premium porn source, and we've included info about adult stars in our clips.
Adult Star:

NoFaceGirl

Premium Site:

PornhubPremium

Full Movie Length:

22 Minutes