Kylie Page loves showing off her American striped bikini on the 4th of July since she's so patriotic. At the same time, this busty teen chick also looks ridiculously hot while wearing it! Either way, Kylie isn't spending Independence day alone because a man stopped by so they can have sex. Now let's watch a porn video with a babe of few words, yet many moans!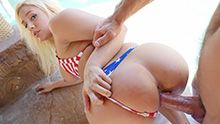 You can definitely admire her roleplaying dedication.
Jumping into the action, our blonde cutie salutes his veiny cock before bending over. Nowadays, such patriotism is rare from attractive teen girls. But Miss Page seems more enthusiastic than most young women. And she surely keeps it up while the sex video progresses too! When Kylie gazes back at him as they bang in a hot porn position, this eager babe gives a cute little wink.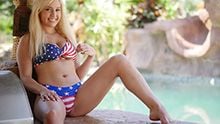 Masturbating as he thrusts, rubbing her sensitive clit to add stimulation.
"Yes, that feels good…" she whispers between a few girlish moans. To be honest, small comments the blonde teen says really make our sex video more erotic. Next, Miss Page mentions, "You're hitting all the right spots, baby!" Then matches his dominant thrusts with a few sexual maneuvers of her own. Meaning, that huge teenage ass bounces on him like the thickest booty ever!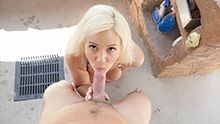 Relentlessly cramming that big dick into Kylie's wet shaven pussy.
Laying down and looking so ravishing, she must be the hottest American teen sex sensation. In fact, all we can do is thank Kylie Page for recording porn videos for us to watch. Now back to the fucking, this girl's busty tits jiggle and shake with each forceful slam from behind. Truly, staring at those big boobs bounce is almost hypnotizing. Soon enough, our horny teen hits an inevitable point of climax.
Timestamps
Below are timestamps for easily navigating to sex positions in the scene.
Source of Porn Clips
Every video is from a premium porn source, and we've included info about adult stars in our clips.
Adult Star:

Kylie Page

Premium Site:

Passion-HD

Full Movie Length:

30 Minutes