Miss Lexa looks so fine in a tight lace choker and sexy lingerie. Starting off a top-rated porn video of a hot naked girl, she submissively knees down and waits for her lover. When a guy enters, he already knows what this horny sex slut desires. So the man whips out his hard cock for Lexa to begin a toe-curling blowjob.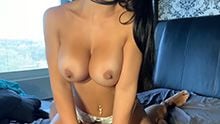 Only pulling her lips off the shaft to worship that big dick.
While bobbing on it, our lingerie goddess caresses herself by massaging her big tits. Although it's hard to keep up because they're bouncing as she deepthroats him! But that doesn't stop her because naked girls like Miss Lexa enjoy sucking dick. Between moans of pleasure, she gags and wiggles those curvy hips in anticipation of sex. Finally, it's time for them to make a porn video of her complete female submission!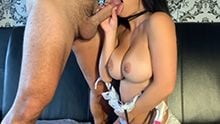 Naked girls love being dominated by men willing to fuck them roughly.
Miss Lexa even does a hot stripper move where she bounces one buttcheek at a time. "Spank my ass," the naked woman begs while twerking her thick booty in his face. Then our eager lingerie girl climbs aboard to hump him and announces, "I love riding cock!" as it slides between her glistening pussy lips.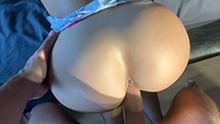 Fingering herself while he kisses the nude lingerie girl's perky nipples.
The sex continues when Miss Lexa turns around so he can see her perfect big tits bounce up and down. "I want you to fill me with cum," she admits. Now wouldn't that be a hot ending to a top-rated sex video? Yeah, it sure would be!
Without missing a beat, she fingers her pussy and says, "You make me so wet." But the guy can't reply because he's busy with licking and sucking on the naked girl's erect nipples. All of a sudden, Lexa blurts out, "Fill my slutty cunt. Cum in me!" which implies she has more than a few submissive fantasies.
For their last sex position of our porn video, the woman bends over to penetrated from behind. "I've been a naughty nude girl," she reminds him. That only inspires the man to thrust even faster and more roughly. Clutching the edge of the mattress, our naked lingerie goddess hangs on as he fills her tight pussy with cum. "You're pumping it so deep!" she shouts right before having a powerful female orgasm.
Timestamps
Below are timestamps for easily navigating to sex positions in the scene.
Source of Porn Clips
Every video is from a premium porn source, and we've included info about adult stars in our clips.
Adult Star:

MissLexa

Premium Site:

PornhubPremium

Full Movie Length:

16 Minutes