Janice Griffith is a tiny teen brunette with big nerdy glasses and an amazing appetite for sex! In fact, everyone watching our porn video can clearly see how much she craves cock. When yanking off her boyfriend's shorts, it flings out already erect since this chick is so hot. Take note, a triumphant grin across Janice's face confirms her pure horniness!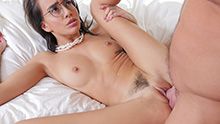 Softly gliding those teeth along his thick dick during a blowjob.
Immediately, Miss Griffith slurps that huge dick into her small mouth. Then the petite teen starts ramming it deeper, practically gagging on him as if she can't get enough. Once this guy throws her onto a bed, our nerdy babe shouts, "Please, fuck me!" with a delighted smile. Next, he gladly complies by shoving his entire cock inside the teen's slippery pussy. And she just keeps begging for more throughout the whole sex video.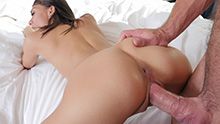 Lustful expressions show this sexy young teen's cravings.
Finally, those glasses come off so we're able to see the girl's eyes roll back from passion. Then Janice moans, "I love sex so much!" while blushing like she's slightly embarrassed by her erotic desires. Now Miss Griffith's expression amplifies from delight to total sexual euphoria. And it looks like our hot little teen is enjoying the best fuck of her young life!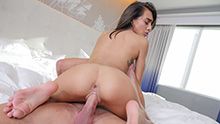 Leaning far enough forward that her tiny tits rub against him.
Completely full of glee, she bites her nails as the man slowly pounds from behind. Next, this frisky teen reaches back to cup his balls then almost drags him deeper inside! Spanking that petite ass now, Janice cries out, "Yes, I love it!" while those pussy lips grip his girth. Although she's gotten stretched out during the sex video, it still clings so tightly! When our porn clip finishes, these two keep groaning as if they'll never stop.
Timestamps
Below are timestamps for easily navigating to sex positions in the scene.
Source of Porn Clips
Every video is from a premium porn source, and we've included info about adult stars in our clips.
Adult Star:

Janice Griffith

Premium Site:

Tiny4k

Full Movie Length:

32 Minutes