Alone with her stepfather for a whole week, Kenzie Reeves takes the opportunity to seduce him! When he walks into the hot teen girl's room, the man says, "Your mom says it's up to me whether you get to visit New York." Convincing daddy should be easy for our petite blonde since she wants to have sex anyway!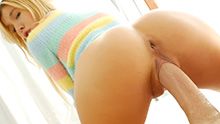 Daddy's little whore gets fucked until she can't talk anymore.
As the porn video progresses, this horny minx moans, "Please, I need your cock." Then our tiny teen sex machine gets on top of him to ride like a girth-craved slut. He can't keep his hands off the stepdaughter's irresistible ass while guiding it back and forth. And this sly teenager intends to fuck him until satisfying all her naughty desires. Clearly, Miss Reeves isn't shy about using sex to get whatever she needs!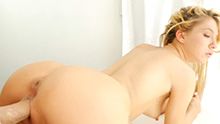 Our slutty blonde understands the erotic power of dirty talk.
Kenzie keeps flattering the stepfather with lines such as, "You're stretching my pussy!" Also, she knows precisely how to rile up a guy through dirty talking like, "Call me a teen whore!" Which he does by groaning, "Yeah, you're daddy's little slut, aren't you?" Then this hot chick gleefully agrees, "And I'm all yours!" Now that's some built-up sexual tension being released between them.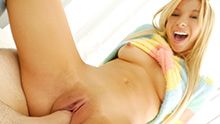 Taking off her fuzzy sweater, which reveals those perky titties.
Our teen sex video represents a girl who has daddy wrapped around her finger. Next, Kenzie demands, "Grab my ass!" And he not only grasps it but also spanks his naughty stepdaughter too! "Fuck my tight cunt harder, use it…" she continues. All of a sudden, the teen girl yells, "Yes, I'm cumming!" almost out of nowhere. With a tight grip on her tiny hips, he keeps fucking that pussy rapidly.
Kenzie thrashes and squeals as she orgasms, then slowly fades into a relaxed euphoria. While lying motionless, the hot teenager appears absolutely shameless. In fact, she'll do whatever it takes to manipulate him. Even if that means making hardcore sex videos like today's porn clip more often!
Timestamps
Below are timestamps for easily navigating to sex positions in the scene.
Source of Porn Clips
Every video is from a premium porn source, and we've included info about adult stars in our clips.
Adult Star:

Kenzie Reeves

Premium Site:

PornhubPremium

Full Movie Length:

61 Minutes