Henessy stands dominantly above her partner in today's pegging porn video. And the man lays vulnerable as a mistress approaches, awaiting a female to take control. Lifting the sheet, it reveals he's hiding a fully erect cock. So she handles his shaft and caresses those bulging balls. Meanwhile, our dominatrix gazes at him since they know what's about to happen.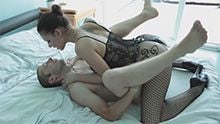 Henessy is stimulated by the acquiescence to her penetrating whims.
Licking doesn't last long because Henessy won't stand for any submissive behavior. Sliding on a shiny glove, our femdom beauty preps him for pegging with invasive fingering. He's on his knees with that ass firmly up as the young goddess towers above. Wearing black lace lingerie, she could surely make this male worship her if she chose. But our queen only lets him submit to pegging from a lifelike dildo.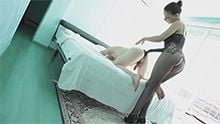 Aroused by his submission, she pegs his ass deeply.
Dominant women cannot display weakness, so she won't show any arousal to him. Not to mention, our mistress has a luscious round booty made for the adoration of obedient men! But now the pegging begins as she inserts a realistic strapon cock between those cheeks. At the same time, his balls remain tied with a soft cock hanging down.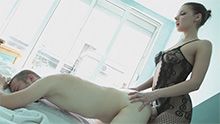 Those shapely legs perch on glossy pumps throughout the pegging.
Suddenly, a swift spanking makes the guy let out a short pleasurable moan. Then the sex video shifts to a long closeup on her face while pegging him. Can you imagine what's going through such a dominant woman's mind? It must be thoughts of pure power and sexuality.
Overall, their porn video definitely scores a point for female supremacy. Whether it's pegging a man from behind or on his back as she hovers above him. Regardless, he doesn't get to cum today unless it's only by anal stimulation. In any case, the sexual encounter ends tenderly with Henessy receiving a nuzzle on her tits.
Timestamps
Below are timestamps for easily navigating to sex positions in the scene.
Source of Porn Clips
Every video is from a premium porn source, and we've included info about adult stars in our clips.
Adult Star:

Henessy

Premium Site:

PornhubPremium

Full Movie Length:

34 Minutes