Delectable Emma Mae gives us a shy smile because she has some dirty thoughts. As the camera moves from her lacy lingerie panties to those nice natural tits, we can see this babe is in a horny mood. And what amazing big boobs these are! When our half-naked girl here takes handfuls of them, it immediately sets off erotic urges.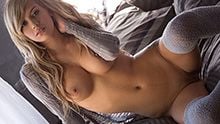 The gorgeous girl's nipples get harder with every breast rub.
Standing in a doorway caressing her tanned body, Emma gently sways from side to side. Almost like she's teasing us, the goddess slides a finger inside those thin panties. Now thinking to ourselves, "Will this chick take them off soon?" Well, it sure looks that way! Next, Miss Mae removes almost all her clothing and stretches out on a bed naked. She only leaves on an open lace top and knitted thigh-high stockings.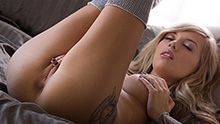 Those intimate eyes make our sex video even more enticing.
When gazing toward us, the viewer's eyes abruptly shift away from that soft pussy. Admiring how beautiful this nude girl looks now, it's a treat to watch after she starts masturbating! Most of the shyness she previously displayed seems to disappear. To be honest, it feels like we joined a private, sensual realm with Emma. Now the innocent enchantress tempts us by rubbing her boobs and thighs.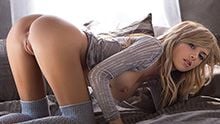 An urgency to orgasm has taken over the naked girl.
Once zoning out, Miss Mae enters an erotic fantasy world where we're invited! Moaning while fingering herself, she slides out only to stimulate that precious clit. But then the naked beauty looks up again, signaling a craving for a stiff dick. Those curvy hips roll with the movements of her hand as our lovely girl masturbates. Ultimately, Emma is completely focused on self-satisfaction!
Timestamps
Below are timestamps for easily navigating to sex positions in the scene.
Source of Porn Clips
Every video is from a premium porn source, and we've included info about adult stars in our clips.
Adult Star:

Emma Mae

Premium Site:

Babes

Full Movie Length:

10 Minutes