Dillion Harper is in a lonely mood so she goes for a walk at the beach resort she's staying at. Stopping in the sand and putting down a towel, the girl lays back to touch herself sexually. You could say this chick's giving the only kind of attention that's completely in her control! Undoubtedly, there's no way someone doesn't notice a babe like Miss Harper masturbating in public.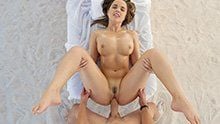 From a distance, a guy sees Dillion fingering herself in the sand.
Watching amateur porn unfold right before his eyes, he approaches the girl shirtless, and low-key shows off his set of ripped abs. Dillion perks up when he states, "You look like you need a massage!" Excited that someone noticed her public peep show, she responds by rubbing that half-chubbed dick through his swim trunks and saying, "You mean like this?" – Which really shows her horny intentions!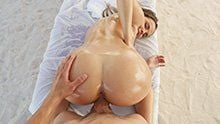 It's a nice surprise that the resort's massage table is nearby.
They drag it over into the sand and Dillion Harper hops on the table without any clothes on. After all, how's she going to receive deep tissue rubdown while wearing that restrictive bikini? Every stroke on that booty makes her increasingly more turned on. In fact, it's almost as if all this touching is building up more tension from how badly she wants to fuck! Finally, the amateur's dream comes true when he flips her over, spreads oil everywhere, and gropes those perfect porn boobs until they're shimmering in the sun.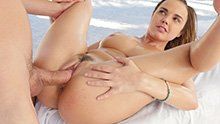 Banging right out in the open, they don't care who sees their public porn.
This oiled up couple has an immediate love connection and they're ready to act on it! Dillion pulls his erect cock out from those swim trunks, then begs him to fuck her. Without a seconds hesitation, he fills that lubed up pussy not giving a single care as to who sees their amateur sex. She adores the way he slides in her slippery snatch, moaning loudly and rubbing that clit for more pleasure.
Although, the porn video really gets going when she mounts him and shows off her twerking skills! For a girl with average curves like Dillion, her grinding abilities actually look so provocative. In fact, you can almost feel her trembling as she has spasming orgasms while riding. There's no way these two don't meet up again after an amateur hookup this thrilling!
Timestamps
Below are timestamps for easily navigating to sex positions in the scene.
Source of Porn Clips
Every video is from a premium porn source, and we've included info about adult stars in our clips.
Adult Star:

Dillion Harper

Premium Site:

Passion-HD

Full Movie Length:

30 Minutes