Action between Eufrat and Gina Devine heats up today in a lesbian strapon sex video. Tenderly lying on a couch, they start off slowly as a soundtrack plays romantic music. Soon enough, the tunes fade away, then our beauties finger each other. Temptation builds and the porn stars communicate their arousal with bright, lustful eyes.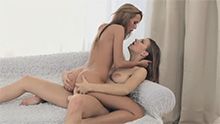 Suddenly, one of the girls climaxes before their toy even goes in!
Luckily, lesbian women love cumming more than once. With Eufrat taking control, she stands dominantly above Gina while wearing a strapon. Next, our mistress kneels down, letting her stroke its fleshy girth as if it were the real thing. But no men appear during today's porn video – only hot lesbian babes! Now our girls passionately kiss and she turns around so Eufrat may rub the tip against her pussy.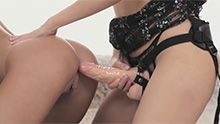 Gina looks sexy being fucked from behind by a strapon.
When our video camera zooms out, it shows a wide-angle perspective. And we see how dominant the woman appears, fucking her lesbian lover with a lifelike strapon. Working up to a gradual stroking rhythm, this chick bangs better than most guys! Just listen to each wet sound as the rod goes back and forth inside our submissive lesbian.
After cumming again, the women gaze into each other's eyes.
Standing face-to-face now, these two look satisfied with their romantic strapon porn session. It was so hot watching Eufrat's boobs hang free, yet wiggle from every thrust. And they seem to agree because she starts gently nibbling on Gina's modest titties. Looking down at the gorgeous woman sucking those nipples, this causes her to blush. Finally, our lesbians affectionately kiss one last time while feeling sexually fulfilled.
Timestamps
Below are timestamps for easily navigating to sex positions in the scene.
Source of Porn Clips
Every video is from a premium porn source, and we've included info about adult stars in our clips.
Adult Star:

Gina Devine & Eufrat

Premium Site:

PornhubPremium

Full Movie Length:

14 Minutes