In today's porn video, Megan Rain gets naked for a man on a shady porch surrounded by lush greenery. And what's better than outdoor sex on a hot summer day? Nothing, of course! Now keep watching because this guy's about to give her a vigorous fuck she won't forget anytime soon. – Starting with our horny nude girl bent over submissively!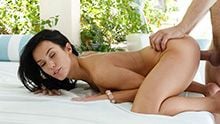 Encouraging the man to take complete sexual control.
With desire painted across those cheeks, the seductive chick can't wait for an alpha male to punish her. In fact, Miss Rain feels downright kinky today! She whispers in a womanly voice, "Dominate me…" then continues by telling him, "Make me your whore!" Surely, this dude doesn't mind since he grabs the girl's exotic black hair and let's her unbuckle his pants. Well, that's one way to begin a hot naked sex video!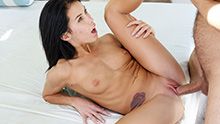 Submissive nude girls are worth taking the time to admire.
It glides right into her pussy, which isn't surprising because she's so wet from the foreplay. Honestly, hot girls like Megan are even more attractive while straddling your dick! And most of all, when they're naked outdoors without a care in the world. As they gaze at each other passionately, you can't help but appreciate how sexy she looks.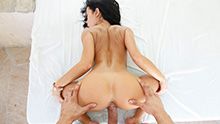 First, they fuck fast, then slow down to gentle lovemaking.
Grabbing this naked girl's thin waist, the guy starts pounding her like she's his own personal sex toy. Trying to keep up, Megan adamantly fucks him back, almost as if it's a competition. Then on the edge of a climax, he quickly pulls out to change positions.
Now their rapid movements fade into slow, passionate outdoor sex. Finally, this dominated diva can enjoy each tender thrust from behind. Regardless of whether they're worn out, these two appear much more intimate. And it has to feel amazing since our satisfied girl cums almost instantly as the porn video ends.
Timestamps
Below are timestamps for easily navigating to sex positions in the scene.
Source of Porn Clips
Every video is from a premium porn source, and we've included info about adult stars in our clips.
Adult Star:

Megan Rain

Premium Site:

Passion-HD

Full Movie Length:

30 Minutes