"Well, I was watching amateur porn and got horny," says MissLexa while approaching a guy for sex. Then the model continues, "Now I'm craving some real cock!" So she lifts up her tight mini dress and shows off a curvy figure. Apparently, this babe does a lot of squats because those muscular glutes look super toned.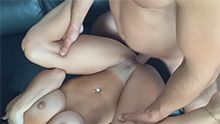 Dimples above her firm ass and complementing bikini tan lines.
Next, she mentions, "I skipped the panties… Didn't think I needed any!" once our porn video displays that naked pussy underneath. Straddling him now, this model reveals some more-than-amateur sex skills. As a matter of fact, you could say it's athleticism!
Even though you can't see Lexa's face, we can still ogle over her beautiful dark hair just in the camera's view. Every few moments she spanks herself, almost as if it's a queue for the man. But instead, he simply keeps slapping around those huge natural titties.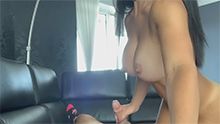 Laying MissLexa down with those legs spread widely.
After leaning forward, this gives us a closer view of her rock-hard nipples. While it almost smothers him, that won't stop the stud from fucking such a hot woman! Finishing up humping, she gives herself one last spank before changing sex positions. And they continue making love as his cock plunges into the amateur's pussy.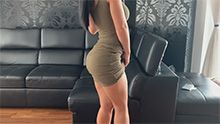 Observe the porn model in all her alluring amateur glory.
With nipples harder and darker than ever, she runs her fingers up toward her mouth to begin sucking on them. Each thrust makes gagged moans blurt out from her, yet anyone could tell it's from pure satisfaction. Now watch closely as the porn video wraps up because you'll want to spray cum along Lexa's firm abs! Since she's so turned on, only an orgasm shall be enough to bring her full sexual delight.
Timestamps
Below are timestamps for easily navigating to sex positions in the scene.
Source of Porn Clips
Every video is from a premium porn source, and we've included info about adult stars in our clips.
Adult Star:

MissLexa

Premium Site:

PornhubPremium

Full Movie Length:

16 Minutes