Amateur porn star, BehindTheMaskk never reveals her secret identity. But no one needs to know when she has such a massive MILF booty that's so memorable! This babe's thick ass sports a thin black thong, which looks sexy while knelt down. Once getting up and dancing for the camera, viewers are able to see her full luscious body.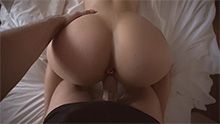 Dedicated amateur preps a man's cock for penetration.
Next, our favorite porn chick pampers a big dick hanging only an inch or two away from her mouth. Without hesitating, she wraps those puffy lips around and sucks it deeply. As the blowjob begins, he releases a pleasurable breath of relief. Then this guy places a hand on our amateur brunette's head to assert dominance. Although, it's unnecessary because BehindTheMaskk has already been enthusiastically slurping that cock.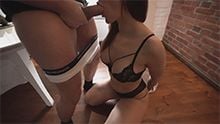 The porn scene swaps, and they're on a couch ready to fuck!
Both of them crave having sex with each other immediately. Therefore, the man tugs those panties aside and slides his girth inside our MILF's wet pussy. In fact, they don't even bother removing her thong since it adds passion during their amateur porn! While fucking this stunning babe, he holds onto the thin fabric to guide that bouncing booty.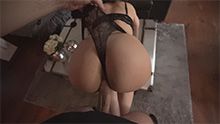 Watching them bang in doggystyle looks so sexually gratifying.
Moaning after every thrust, "Oh, yes…" which establishes how horny the woman is. And if we're lucky, viewers may see BehindTheMaskk let loose a tremendous orgasm! Those cheeks continue thumping faster as she becomes closer to cumming. But before climaxing, they pull out a jeweled butt plug that'll make the porn finale even better. Anticipating this moment, our amateur gasps when it enters her ass, "This is what I've been waiting for!"
Timestamps
Below are timestamps for easily navigating to sex positions in the scene.
Source of Porn Clips
Every video is from a premium porn source, and we've included info about adult stars in our clips.
Adult Star:

BehindTheMaskk

Premium Site:

PornhubPremium

Full Movie Length:

17 Minutes