Gina Devine and Eufrat start their strapon porn video by kissing on a comfy, yet sturdy bed. Opening with an intimate clinch, they passionately make out. Next, one hot girl climbs on top of the other for some sensual lesbian facesitting. Gently licking at the lips of that pussy, she gives the most erotic foreplay before eating her out.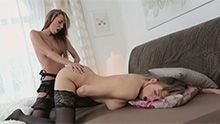 Our submissive lesbian aches for a strapon shaft inside her.
Now it's time for a fingering frenzy as Eufrat leans back to get a sex rhythm going. But the main event still awaits them! And these two are more than ready after a bit of light penetration. While wearing a strapon cock, Gina teasingly rubs her glistening pussy with the tip. And she keeps doing this until this girl utterly craves to feel a dildo's shaft. Judging by a smile across those lips, she profoundly enjoys their lesbian strapon sex.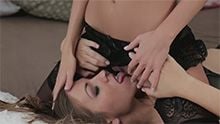 Reaching around to rub a sensitive clit, giving further stimulation.
To add a touch of elegance, both girls slide up pairs of lacy thigh-high stockings during the porn video. Take note, such sexy attire increases the sensuality of an upcoming lesbian climax. Deeply plunging her head into a pillow, Eufrat arches that back, taking it all. Finally, every inch of girth from the strapon disappears within her moist cunt.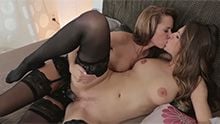 Each girl lets out a deep sigh, coming closer to a climax.
Grabbing the submissive slut's tight ass, our girls may orgasm soon. Spooning on a bed now, Miss Devine massages her clit before slowly guiding it in. Sounds of mutual moans bounce off the walls as these hot lesbians fuck to a sexual finish line. Keeping a steady pace, the dominant woman kneels as she thrusts from behind. Then Gina's strapon porn skills shine by capturing the right momentum to make her cum.
Timestamps
Below are timestamps for easily navigating to sex positions in the scene.
Source of Porn Clips
Every video is from a premium porn source, and we've included info about adult stars in our clips.
Adult Star:

Gina Devine & Eufrat

Premium Site:

PornhubPremium

Full Movie Length:

22 Minutes