Sydney Cole and has woken up this morning in a horny mood because she slept the entire night naked beside her boyfriend. In fact, she's wearing nothing but a thin thong and sexy knee-high socks! They were both too tired last night to get frisky, so it's understandable that some morning sex is in order. At the moment, he's still groggy from coming out of a deep slumber, but this horny babe has an erotic plan to perk him up fast.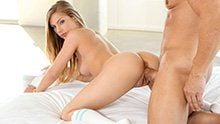 The naked girl's attempts at seducing seem to pay off measurably.
With lust running through her veins, the hot girl strolls over to a window on the other side of their room. Her hips swing with every step she takes, which easily garners the attention of the tired man. Sitting up now, he gazes at Sydney Cole's naked body as she fondles her big boobs. Fortunately, it looks like the erotic plan seems to work because he quickly goes to make out with her.
Now that these two are awake and thoroughly sexually aroused, there's no better next step than to scurry back under the covers for some nude snuggling! The sexy girl burrows into the blankets and pulls off his constricting boxer shorts, which lets that big dick take a refreshing breather.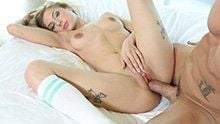 Sydney wants to give him the hottest blowjob of his life.
Anticipating this moment all night long, she holds his manhood with both hands and plunges her lips around the sensitive tip. Next, the seductive girl uses her cheeks for suction as she guides that entire mouth up and down his thick shaft. When it comes to deepthroating, like most girls, the attempts fall short when Sydney can barely fit that huge cock halfway into her tiny mouth. Nonetheless, it's okay since they just want to bang already!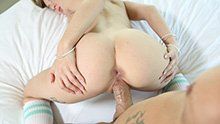 Miss Cole skips the foreplay and cuts straight to morning sex!
Laying naked on the bed with her big ass in the air, she's ready to be mounted. That pussy looks so juicy as he approaches it, throbbing dick in hand. In fact, it's likely that anybody watching our sex video would switch places in a second if they got to penetrate this hot nude babe. Sydney loves the way he pulls her hair while they fuck because it indirectly forces her to arch that back submissively to him.
The girl emits sexual moans, which come from the pleasurable thrusts inside her pussy. From lip biting to teeth clenching, this gorgeous naked chick is loving every single second of sex! In fact, she simply cannot get enough since right when he slows down, Miss Cole reaches back with both hands to grab those big ass cheeks. Overall, watching Sydney spread that pussy widely is a beautiful sight, especially while still wearing those hot knee-high socks!
Timestamps
Below are timestamps for easily navigating to sex positions in the scene.
Source of Porn Clips
Every video is from a premium porn source, and we've included info about adult stars in our clips.
Adult Star:

Sydney Cole

Premium Site:

Passion-HD

Full Movie Length:

26 Minutes