Every morning Kylie Page stretches by the poolside in a pair of fuzzy yoga pants and a tight workout top. Today when this sexy teen is doing the routine and getting limbered up, her neighbor peeks over their fence to have a good look at that curvy body. He decides to pay Kylie a visit, then comes over to offer assistance with her yoga moves. She's in the middle of a sexy pose where her big teen ass is on display when he gets there. Unable to control his urges, he sneaks up and takes a big grab of that thick booty!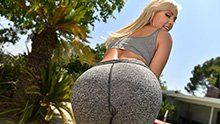 Little did he know, she was trying to bait him to come over all along!
Secretly, the teen girl knew her neighbor was spying like a voyeur during the workout. In fact, she'd been trying to get him to come over by doing some provocative stretches. Furthermore, she loved the way he just outright grabbed her big ass! The two look at each other and without a word spoken, it was clear they both wanted to fool around. Finally, she has the dude lay down while grinding her ass all over him!
Kylie slides her pants off and sits down on the guy's face. He adores that curvy teen body and licks her pussy as she pushes those lovely hips into him. Focusing on the oral stimulation, the teen lightly moans and decides she wants to return the favor. The guy stands up and Kylie yanks his pants down to reveal a throbbing huge dick. She slides that shaft directly into her mouth and eagerly sucks his cock, thoroughly enjoying giving head and licking from the tip to the base.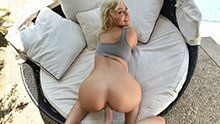 It's a good thing this teen is already limbered up and ready for sex.
After that dick is nice and lubed up with spit, the teen girl bends over into doggystyle position and spreads her legs to have sex. She grabs the pure white sheets they're laying on as the man thrusts his girth deep inside the thick-hipped babe. Kylie practically rips her tight workout top off and lets her big, natural tits hang free. Those boobs begin to bounce with every thrust she takes, which only makes her moan louder and become even hornier.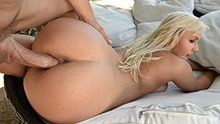 Kylie wants more so she has the guy flip over onto his back.
She crawls onto him, lustfully starving for more sex. The curvy babe slides his dick back into her pussy, but even deeper this time and starts riding it wildly. Pleasure ensues for the couple, but after having enough of bouncing on top, it's finally time for these two to finish things off!
The gorgeous teen lays down on her stomach so she can be pounded again from behind. Once she's in her favorite position, the guy grabs her ass and plows this teen babe as deeply as he possibly can. In fact, her curvy body trembles and shakes while they have passionate sex. Kylie Page climaxes on his cock, moaning loudly without a care as to who hears from the backyard.
Timestamps
Below are timestamps for easily navigating to sex positions in the scene.
Source of Porn Clips
Every video is from a premium porn source, and we've included info about adult stars in our clips.
Adult Star:

Kylie Page

Premium Site:

TeenCurves

Full Movie Length:

24 Minutes