Teenage cutie, Kiera Winters looks so sexy in her backward snapback hat and a revealing tank top. In fact, the man she's kneeling down for seemingly agrees because he has boner hiding underneath his shorts! Noticing the size of its girth, her intoxicating eyes open widely. Finally, one thing leads to another and our teen unsheaths that eager cock.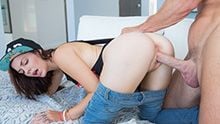 Longingly staring up at him during the oral sex.
While grasping his shaft, you can see the phrase, "Stay True" tattooed along Kiera's knuckles. Then this hot chick says, "Oh my gosh, you're so big!" and plops it right into her mouth for a blowjob. Almost teasingly, those bright white teeth gently coast across his dick. But as she starts sucking him off, the arousal rapidly increases. Soon enough, our snapback heartthrob wants to have sex already!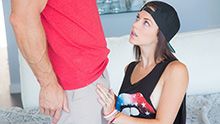 That teen pussy gobbles up his huge cock regardless of its size.
Viewers can gauge her intense horniness while she eases into the pleasure. With enough persistence, he ends up balls-deep inside her! Every satisfying thrust makes this babe moan in lust and firmly grip the sofa they're banging on. Not to mention, those tight jeans are still around Kiera's thighs during their sex. At this point, she has fully submitted to his control.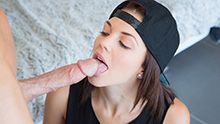 Mounting the guy to fuck in reverse cowgirl position!
Placing her tiny feet on those stud-like thighs, she begins riding his cock with long strides. And now that Kiera's petite teenage body is on display we can see some sensual tan lines. – Which only makes our sex video even hotter! Although, once climax nears, it's back to her knees for a wonderful cumshot to the face. The teen brunette gazes upwards with beautiful hazel eyes, anticipating a creamy orgasm.
Timestamps
Below are timestamps for easily navigating to sex positions in the scene.
Source of Porn Clips
Every video is from a premium porn source, and we've included info about adult stars in our clips.