For months, Cayla Lyons has fantasized about having sex with her boss. Today, this girl's dream comes true when they're alone in the office together and things become a little too laid back. When the man-in-charge goes in to kiss her, Cayla becomes wide-eyed and naturally pulls away since office romance is highly frowned upon. Once this gorgeous blonde babe realizes what's happening, she cannot help but succumb to her desires and proceeds to kiss him back passionately.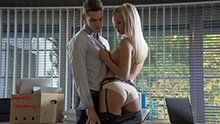 Holding Cayla, he slowly works his hands down to grab her firm ass.
These two can't stand staying clothed for any longer in the presence of each other. Helping her strip naked, he unbuttons the top of the girl's blouse. Next, this man lifts up her respectable business skirt to reveal that she has lingerie underneath! Cayla blushes because it's so risque to secretly wear such a naughty outfit in a place of business. On a side note, the way they look at one another hints that they've had sexual tension for a while now.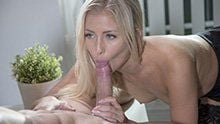 Naked girls always look best when they're mounted on top!
Enthusiastically climbing up on a work desk, the nude girl mounts her boss with the utmost eagerness. They look deeply into each other's eyes as that hard shaft penetrates Cayla's tight, thirsty pussy. By the looks of it, this professional couple might stay late tonight, putting in some unpaid overtime at the office!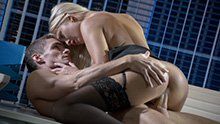 Quite possibly the best part of our entire video is what she's wearing.
It's hard to tell whether the black lace lingerie she's wearing, or that stunning slim physique makes her so sexy. Honestly, the combination of both is probably what results in Cayla Lyons being bent over fucking at the office such a mouth-watering sight! Overall, this erotic workplace sex scene is definitely worth watching if you're into gorgeous blondes and ravishing naked girls.
Timestamps
Below are timestamps for easily navigating to sex positions in the scene.
Source of Porn Clips
Every video is from a premium porn source, and we've included info about adult stars in our clips.
Adult Star:

Cayla Lyons

Premium Site:

Babes

Full Movie Length:

40 Minutes