Anya Olsen and her boyfriend are on a road trip and staying in fancy hotels. They planned on going to the beach today, but the gloomy weather has them stuck indoors. Since these two still want to go outside and party it up, they take their friskiness to the balcony of the room. While the teens decided to stay inside this afternoon, that doesn't mean they can't get naughty!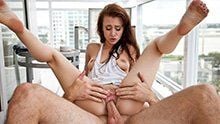 Rainy day? Let's stay indoors and have frisky teen sex!
Overlooking the hotel pool, the teen girl crawls around in her panties, slightly embarrassed from how promiscuous they are. She creeps over to where her man is sitting, goes between his legs, and begins kissing the outline of his cock through those swim trunks! He eventually pulls it out, then with a horny look in her eye, Anya says, "Ooooh! Look at this big dick!" and immediately starts deepthroating it.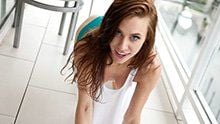 To prevent getting caught fucking in public, they keep extra quiet.
Staying low so they don't draw any attention, the teen couple strips off all their clothes and get into position for sex. Waiting for her partner now, Anya puckers that ass and sensually whispers, "Hurry up!" as he casually waddles over.
This dude latches onto the teen babes waist and fucks her in a swift rhythm, which causes Miss Olsen to continuously let out deep, erotic moans. "Oh god, yeah. Oh, fuck…" she says while being penetrated from behind. As soon as Anya presses her face against the transparent glass of the balcony, you can tell she's completely submissive to him.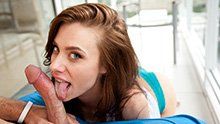 The horny teen grinds on him until she cums long and hard!
After a few more sex positions and a lot more pleasure, these two horny teens can't wait to wrap things up with some satisfying orgasms. Finally, Anya lays on a towel they've spread out, arches her back, and starts riding him in missionary position. The sight of this beautiful teen is unbelievable as she literally fucks herself with his cock! In fact, he doesn't have to do anything but hold onto his girlfriend while she accelerates towards climaxing.
Suddenly, the teen grabs her pussy, vibrates uncontrollably, and cums right on top of him. Her orgasmic moans are so loud that the entire hotel must've heard! After a few euphoric seconds of spasming, she relaxes and melts like pudding while laying there on the guy's legs. In total bliss after the sex, the only thing Anya can do is giggle and run those hands through her hair.
Timestamps
Below are timestamps for easily navigating to sex positions in the scene.
Source of Porn Clips
Every video is from a premium porn source, and we've included info about adult stars in our clips.
Adult Star:

Anya Olsen

Premium Site:

Mofos

Full Movie Length:

40 Minutes