Smoking hot MILF Jelena Jensen offers to help her 18-year-old friend Jenna Sativa out with a little problem. You see, Jenna wants to try fooling around with another girl, and Jelena is the kind of woman that's more than happy to help get the job done. Leaning over and softly kissing the younger girls' pouty lips, these gorgeous babes start making out as they slowly lay down together. With the MILF climbing on top and leading the way, sparks begin to fly between these two lesbian lovers!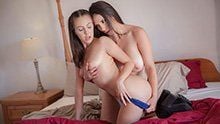 Jenna's hips gyrate to the motion of those fingers on her clit.
Sliding a hand on Jenna's breast, Miss Jensen seductively pops out those perky, naked tits from the girl's shirt. It only takes a moment of licking those sensitive nipples before the younger chick can't stand it anymore and strips completely nude. Laying in the MILF's arms, she spreads the naked girl's thighs, taking control as the more experienced of the two rubs her tight pussy.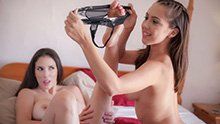 These women simply cannot resist going all the way!
Our naked girl begs the MILF for more, staring at her with lust-filled, puppy-dog eyes. Happy to oblige, she gently twists Jenna's nipple and slips a finger into that inexperienced pussy. These two begin to sync up their breathing, rapidly becoming closer and closer to climaxing. Finally, she draws her fingers out of that glistening snatch and repositions herself to take a taste of the juices it's producing.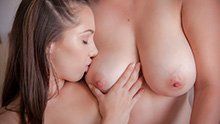 Jelena isn't going to allow this girl to orgasm quite yet.
The way the MILF whispers, "Oh you taste so good" sends Jenna over the edge. In fact, this girl is overwhelmed with horniness and grinds her crotch into the other woman's face, grabbing her hair and squeezing with those sexy thighs.
Every lick, suck, slurp, and moan these women give is incredibly hot. In fact, you can quite clearly tell they're both loving it. Take note, both of these naked girls pussies are dripping wet during the entire sex video! Overall, this is a lesbian scene that you definitely don't want to miss out on.
Timestamps
Below are timestamps for easily navigating to sex positions in the scene.
Source of Porn Clips
Every video is from a premium porn source, and we've included info about adult stars in our clips.
Adult Stars:

Jelena Jensen & Jenna Sativa

Premium Site:

Twistys

Full Movie Length:

30 Minutes