Harley Jade is an amateur babe that doesn't waste any time fooling around when she likes a guy. That's why in this porn video she drops to her knees and gets down to business in a hurry! After a bit of 'touchy feely' our amateur chick unbuckles her boyfriends pants and immediately starts going to town, grasping his dick in her hand while stroking it in a circular motion.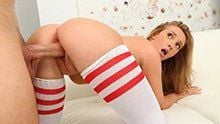 Her one-piece outfit is super sexy, but it needs to come off!
Popping those gorgeous perky tits out of her grey top, the cutie excitedly smiles right before bobbing her head on his cock. Getting into it now, this guy grabs Harley's hair and guides the motion of her sucking. In fact, you can tell our amateur star digs being so submissive from the lustful glimmer in her eyes as she stares up at him.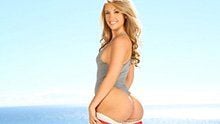 The guy remarks,
"She wants the dick"

and Harley replies with,

"I do!"

Clothes come flying off and Harley mounts her boyfriend in cowgirl position. Although, she purposely leaves her thigh-high socks on because they look so damn sexy! In fact, you could say they're the cherry on top of this particular amateur porn video. Finally, Miss Jade begins riding his big cock, bouncing on top of him and letting out light moans. The guy smacks her ass occasionally, leaving her thick booty covered in faded red handprints.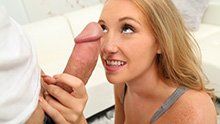 Now that they're warmed up, she lays down with her pussy exposed.
Grabbing onto Harley's waist for leverage, this dude deeply bangs our amateur babe. You can tell she's loving every second of it because her head tilts back in pleasure, completely overtaken by the stimulation of being fucked so hard! Soon enough, Miss Jade has that big ass propped up, reaching underneath to rub her clit during penetration. It's incredibly hot watching that thick booty jiggle with every thrust during an amazing porn video!
Timestamps
Below are timestamps for easily navigating to sex positions in the scene.
Source of Porn Clips
Every video is from a premium porn source, and we've included info about adult stars in our clips.