Dillion Harper prances down the stairs full of excitement and horny for her man. After plopping down on the couch, she realizes that her boyfriend, unfortunately, isn't home. Chewing gum and waiting patiently for him to get back, the cute teen can't help but be bored sitting while there in her tiny shirt and sexy yoga pants. She waits there all day, and when he finally arrives, the couple can't wait to tear each other's clothes off!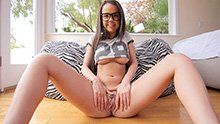 The couple strips down and Dillion gags on her man's huge cock.
This teens shirt is so tight that it clings to her perky tits while struggling to pull it off. Therefore, the guy gives her a hand by practically ripping it off her slim body and throwing the small piece of clothing across the room! Standing up on the couch now, the teen drops those yoga pants around her ankles and gets into position to suck this guy's bulging dick.
Now on her knees, Dillion grabs that giant cock with both hands and attempts to fit the tip of it into her little mouth. However, this tiny teen chick can barely wrap her lips around it all the way! As she sucks it, the awestruck and giggling girl says, "Oh! I like that… It's so big!" Then anxiously continues the blowjob and exclaims, "Gag me with this big cock!" Without a doubt, the guy gladly accepts the invitation and shoves as much girth as he can down her throat.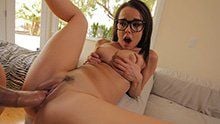 He lifts the tiny teen girl up to have sex in mid-air!
The gorgeous teen straddles her boyfriend, having sex with him in mid-air. Holding onto her ass tightly, he bounces that cock in and out of her pussy. Dillion moans in desire and sputters out dirty talk like, "Squeeze it, baby!" as she's vigorously fucked. He pins his little sex toy up against a support beam in the room and continues slamming that pussy, making the teen babe emit several pleasurable, squeaky whimpers.
Laying down on his back now, the guy lets his girlfriend climb on top to mount that huge cock. She begins riding it slowly, but he isn't going to let her get off that easy. He quickly turns gentle sex with this teen into a hardcore pounding session. Dillion is loving every second of it, letting him grab onto her tiny ass cheeks and slam his big dick inside her rapidly.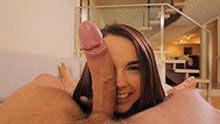 This teen gets fucked so deeply that she can practically feel it in her stomach!
After she's had her fill of riding, the couple swaps place to have sex in missionary position on the edge of the couch. Before inserting himself once more, the guy slaps the teen's clit with his cock and slides it back into her pussy. Going even deeper now than before, he buries that dick inside his girlfriend. Dillion presses on her stomach to feel the pressure of his girth filling her up, then squeals with excitement, taking every inch of him as she possibly can.
Timestamps
Below are timestamps for easily navigating to sex positions in the scene.
Source of Porn Clips
Every video is from a premium porn source, and we've included info about adult stars in our clips.
Adult Star:

Dillion Harper

Premium Site:

Tiny4K

Full Movie Length:

25 Minutes