Lovely blonde Kali Roses stands before everyone in a cute bra and panties. Teasing them, she nibbles her lower lip while slowly stripping. Soon enough, those perky tits are popping out and we get to see her pierced nipples. Once naked, viewers find out Kali has been wearing a jeweled butt plug the whole time! In fact, it's shoved up nicely in this girl's sweet tight ass.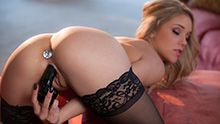 Nothing is better than foreplay to turn us all on.
Except for those lacy thigh highs, Miss Roses is totally nude. She lays down on and spreads her legs open to reveal a shaven pussy waiting for penetration. Not to mention, at this angle we can still see the butt plug peeking out between her buns. Kali glances at us while rubbing the lips of that glistening snatch, then slides her fingers in deeply. Finally, the moment we've all been waiting for!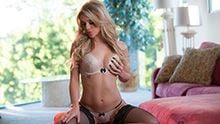 The naked girl starts furiously masturbating.
Miss Roses has the look of a pampered goddess who sits around playing with herself all day. Do you think she fantasizes about men showering her with gifts? In fact, maybe she's making this nude video for a horny lover! Nonetheless, the girl continues rubbing, pulling those fingers out every few seconds to caress her clit. It's a shame she doesn't have a huge dick there to satisfy her!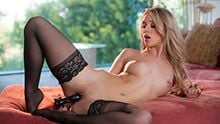 What's next? A big black dildo, of course!
Kali looks over at the audience with a lust-filled expression on her face. Then she says, "I bet you'd love to be inside me, sweetie." while smoothly sliding a dildo into that pussy. Moaning now, the naked girl is masturbating with the 'BBC' at a high velocity. After cumming, she immediately pulls out clean it with her tongue. By the end of this sex video, Miss Roses has the dildo looking brand new.
Timestamps
Below are timestamps for easily navigating to sex positions in the scene.
Source of Porn Clips
Every video is from a premium porn source, and we've included info about adult stars in our clips.
Adult Star:

Kali Roses

Premium Site:

Twistys

Full Movie Length:

11 Minutes