After a long day, Bailey Brooke and her man decide to take a long shower together. She walks into the water still clothed, wearing a thin lace gown and becoming soaked while resting in his arms. Lifting up that gown, the girl lets him grope her tight, naked ass. His hands glide all over her womanly curves, making sure to give special attention to that moist pussy. Then, he turns Bailey around and feels up those beautiful tits, slowly removing the rest of her clothes. Now that this girl's completely naked, the man presses his erect cock against her booty.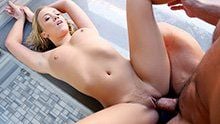 While the waters off, Bailey Brooke only becomes more wet from here!
Miss Brooke kneels on the floor of the shower and proceeds to warm him up with a blowjob. Next, the action escalates when our gorgeous girl uses that tongue to expertly pleasure her man's cock and balls. She starts at his base, licks slowly up to the tip, and makes sure to catch any pre-cum on her palate for a little extra sweetness. Finally, the only thing left to do during this blowjob is bobbing up and down, which results in some amazing oral sex!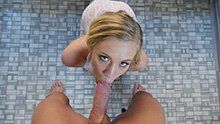 Our nude goddess lays on a ledge beside the shower with her legs hoisted up.
The couple begins to have passionate sex, and Bailey holds her thighs up so this man can focus on fucking her senseless! However, she can't help but let one leg go to give that clit attention, rubbing it gently as he continues pounding Miss Brooke.
Our favorite naked goddess positions herself on all fours with that amazing, big ass at the perfect angle for sex. Continuing to fuck Bailey deeply from behind, he speeds up in synchronization with her excessive moaning. In fact, listening to this girl's screams of pleasure only makes these two even hornier. "Smack!" is the decisive sound that rings through their shower as this babe has one decisive spank on her ass while fucking.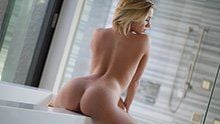 This girls naked silhouette looks amazing in the shine through their window.
Mounting in the classic cowgirl position now, Miss Brooke rides him like an absolute sex goddess. Honestly, the way her ass sparkles in the sunlight is totally mesmerizing as the nude girl takes it even deeper. With every thrust, moans of satisfaction sputter from Bailey's lips as she gets critically close to cumming. Overall, the way this woman fucks naked in the shower makes for one of the hottest, steamiest, and most passionate sex videos ever!
Timestamps
Below are timestamps for easily navigating to sex positions in the scene.
Source of Porn Clips
Every video is from a premium porn source, and we've included info about adult stars in our clips.
Adult Star:

Bailey Brooke

Premium Site:

Passion-HD

Full Movie Length:

30 Minutes