Before our lucky eyes are the stunning curves of a naked goddess. Today's video features NoFaceGirl laying there with her thick ass jutting up. The camera zooms in close so we can see goosebumps rippled along that scrumptious booty. Suddenly, a man's hand enters the scene and begins massaging those cheeks with lotion.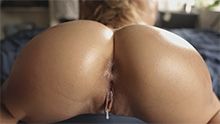 NoFaceGirl enjoys it when he moves toward her pussy.
While that perfect body gleams in the light, this nude babe is ready for an oily rub-down! Aroused from the kneading, she backs that ass closer to him so he can go near her clit. Finally, when our girl's drenched with wetness, the man smoothly inserts his cock into her. Starting off slow, he slides in and out, paying attention to how she feels. Increasing velocity now, this guy squeezes the booty and continues fucking NoFaceGirl.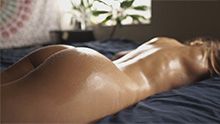 Admire the heavenly shape of her nude, curvy ass.
That gorgeous figure and mysterious lover adds to the intensity of their adult scene. But when he spanks the girl and asks, "Do you like my dick?" It sets our nude sex video off the edge! She quietly whispers back, "Oh yes, baby!" as we see those cheeks thrust against his crotch. The juicy sounds they're emitting only improve the voyeuristic thrill of watching. Somewhere out there, these two are rubbing their naked bodies against each other.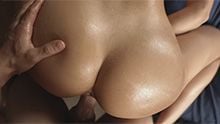 An erotic massage that results in a satisfying creampie.
Honestly, there's no better way to bang an ass like NoFaceGirl's than in doggystyle! As she's pounded, audible pats from their sex fill the room. They're only matched by her pleasurable moans, which encourage him even further. Inevitably, this erotic massage ends with a creampie inside the horny, naked girl. Watch it drip out of her pussy as our adult scene comes to a satisfying close.
Timestamps
Below are timestamps for easily navigating to sex positions in the scene.
Source of Porn Clips
Every video is from a premium porn source, and we've included info about adult stars in our clips.
Adult Star:

NoFaceGirl

Premium Site:

PornhubPremium

Full Movie Length:

12 Minutes