Raven-haired Alex Coal has the sexy nerd look down with her glasses and tight body. Plus, an alluring smile too! It's very fuckable. But today, this femdom babe feels devious. While leaning over a guy, she gives him a tender kiss, then reveals a fleshy dildo dangling from her crotch. Next, he lets out a groan of anticipation, utterly desiring what lies ahead.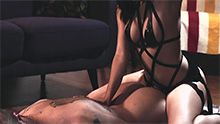 Tugging on the man's cock before inserting a strapon for pegging.
The strapon arouses Alex when she rams inside him, which makes her moan from pleasure. Directly rubbing on her clit, it provides just as much stimulation during the pegging. Then Miss Coal gets into a penetration rhythm, lifting those legs up and proudly asking, "Do you like that? Yeah, I know it feels good." All he does is look at his queen submissively as she thrusts, enjoying each delightful plunge.
With immense sexual energy throughout our pegging porn video, they're clearly in love. But what submissive man wouldn't desire a hot femdom girlfriend, ready to peg you on a whim? At a relentless rhythm, she keeps pounding away, not stopping until he orgasms anally. Meanwhile, we're able to see that curvy body, lunging into the backside of her slut.
Our femdom porn video noticeably contrasts between them.
Able to locate his sensitive, deep g-spot, this chick doesn't appear to be an amateur at pegging. In fact, she moves with the elegance of a femdom-goddess! No matter which sex position these two are in, she fucks him affectionately. And whatever the dynamics of their relationship might be, it's surely controlled by the woman. Can't believe it? Just observe a macho-looking man with tattoos and muscles bent over for a beautiful girl!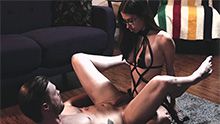 Miss Coal prefers pegging guys instead of being fucked by them.
Undoubtedly, anyone who has a pegging fetish will drool over this intense porn clip. Holding those buns, Alex continues to grind away, only letting go to push his face against the carpet. "Oh, sweet boy…" she whispers. And these short words of affection solidify her role as a dominant female, firmly in charge. Honestly, declaring that it's a hot pegging porn scene would be an understatement.
Timestamps
Below are timestamps for easily navigating to sex positions in the scene.
Source of Porn Clips
Every video is from a premium porn source, and we've included info about adult stars in our clips.
Adult Star:

Alex Coal

Premium Site:

PornhubPremium

Full Movie Length:

26 Minutes