During today's cuckold porn video, Ashly Anderson has the hots for a personal trainer. Little does she know, her husband already informed him about the crush! "I'm okay with you two fucking, but please let me watch," he says casually. Then our excited wife replies, "Are you sure it's okay?" to feel confident about doing it as her bull approaches.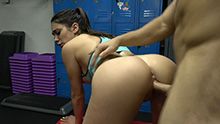 The cuckold sees his wife's juicy tits hang over her workout bra.
"I know you guys want to have sex. So go ahead, darling," he mentions one last time before they begin. "I honestly want you to enjoy yourself!" Seeing his hot wife blow another man, this cuckold can't help but notice how gorgeous she looks. Additionally, he's capturing their sex on video so they can watch porn together later.
Soon enough, Ashly loses all reluctance as she takes the trainer's cock into her mouth. Every few seconds, the girl gazes over at her cuckold creeping on them from afar. And this makes Miss Anderson deepthroat that dick even deeper, showing how much she enjoys it. Especially when the bull holds her by the chin to give a rough face-fucking! Afterward, she has a dreamy appearance, like it was a secret porn fantasy from deep inside.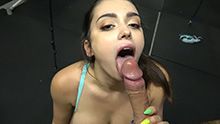 Bending over so the man can start pounding her pussy.
Constantly keeping a dialogue, she says, "Is this making you horny, baby?" to which he only replies with an aroused moan. Let's make it clear, our cuckold isn't missing a beat of the promiscuous wife sharing antics. Squeals of delight and smacking sounds from sex are all we hear now as these two totally lose it. It seems as if she's forgotten about being watched by a voyeur only a few feet away.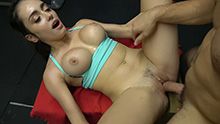 Cheaters can't stop themselves from cumming.
Ashleys lays down with her legs spread wide, then the bull mounts for missionary position sex. They continue fucking until she suddenly has an orgasm right in front of him! Capturing the whole porn video on tape, he's able to watch an alpha male cum inside his wife as many times as he desires.
"Do you like being a slut?" the husband asks after recording one of the best cuckold clips ever. In fact, he's making this hot young girl into a wife sharing porn star! "Yes, I do," Ashly admits with gratitude since she loves the encouragement to be in an open relationship. And it's not cheating if he's willingly letting his spouse fuck a man with a bigger cock!
Timestamps
Below are timestamps for easily navigating to sex positions in the scene.
Source of Porn Clips
Every video is from a premium porn source, and we've included info about adult stars in our clips.
Adult Star:

Ashly Anderson

Premium Site:

PornhubPremium

Full Movie Length:

21 Minutes