Kimber James may have once been a feminine sissy. Now, this trap babe easily passes as a hot girl, with only a few inches of difference. As the porn video starts, she's knelt down and looking up submissively at a man. Then he pulls out a large dick and slams it into her mouth. Face-fucking ensues from the masculine stud, ramming his girth into the sissy's throat.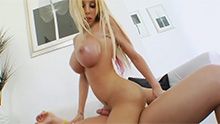 Look at the tiny cock on our trap porn temptress!
Our sex video pans downwards, and to everyone's surprise, this blonde babe has a tiny cock between those legs. But such a beautiful appearance could fool any guy into thinking she's a real woman. With a girlish sissy rod dangling from her crotch, Kimber continues a blowjob. Occasionally, she gazes toward our video. Almost as if it's exposing by letting all the straight viewers know they're jerking off to trap porn!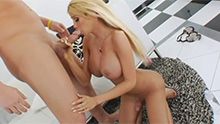 A little sissy shaft wedged between nude bodies.
Next, they shift to a couch, where the sexy sissy straddles him on top. With a massive dick lodged deep inside her ass, she humps at the momentum of a porn star. Simultaneously, a little cock sticks out between their naked bodies. And after each sway of her hips, it gets partially stimulated by rubbing against his muscular abs.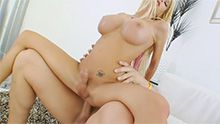 Pleasure mounts and Kimber's moans foreshadow an anal orgasm.
Miss James bends over so he may dominantly fuck that ass in a classic femboy sex position. And her thick trap booty is quite a lovely sight, indeed! Our porn video shows his dick ramming that sissy pussy within those butt cheeks. Then we're able to watch every inch of thrusting as the powerful man relentlessly fucks her. Finally, precum leaks out of the trap's cock as she has an explosive climax!
Timestamps
Below are timestamps for easily navigating to sex positions in the scene.
Source of Porn Clips
Every video is from a premium porn source, and we've included info about adult stars in our clips.
Adult Star:

Kimber James

Premium Site:

PornhubPremium

Full Movie Length:

36 Minutes