Kelsi Monroe is going out to sea with a guy she met recently in his new yacht. As a thank you gift, the girl brought him an amateur captain's hat to wear while they're sailing, which he puts on right away. The couple seems like they're bonding well together, and you can tell that there's a hot love connection growing between them. In fact, this dude made sure to bring his video camera to record any sensual activities that might take place!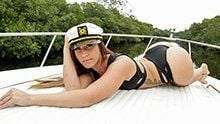 Secretly, she's having dirty sex thoughts about being with the captain.
For the entire day, they'll have complete privacy with each other. Just thinking about all that alone time makes Kelsi horny because she has a huge crush on this ravishing man. By the time they set sail, the bikini babe is already having underlying thoughts about having sex with him. Since he basically has the same idea, this trip is destined to be a formula for porn!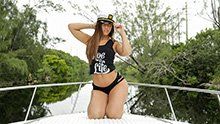 Nothing makes Kelsi more horny than cruising in a motoryacht!
Kelsi goes up to the front of the boat and starts twerking like a porn star in front of the captain. In fact, this guy is getting such an amazing view of her big ass jiggling around that he can barely stay focused on steering. She looks remarkably sexy in her black bikini, which hugs the curves of those hips so perfectly that viewers may mistake her for a mermaid! When Miss Monroe strips the swimsuit off to flaunt her magnificent pussy, he goes up there with his camera to get their amateur porn underway.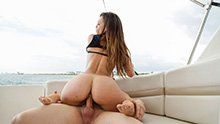 After seeing him recording the porn, this chick goes straight for a blowjob.
The way this bikini babe looks directly into the camera while sucking his dick illustrates how bad she wants it. Seriously, Kelsi has to practically beg with that bare pussy on display before he comes to join her! Although, none of that matters anymore since they're spending the whole afternoon fucking in an amateur porn video. Not to mention, their only witnesses are the fish in the sea around them!
Timestamps
Below are timestamps for easily navigating to sex positions in the scene.
Source of Porn Clips
Every video is from a premium porn source, and we've included info about adult stars in our clips.
Adult Star:

Kelsi Monroe

Premium Site:

TeenCurves

Full Movie Length:

25 Minutes