Layla London is the kind of real estate agent that would gladly fuck a guy if it helps make a sale. And in an amateur porn video, she meets a male client who takes our horny girl up on that offer! Right away, this babe gets naked and spreads her hot shaved pussy for him. Already hard from looking at such a goddess, he walks over with his dick in-hand to fuck the businesswoman.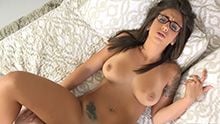 Enjoy a porn video with non-stop dirty talking by an amateur hottie!
As the guy penetrates Layla's spread pussy, she starts loudly squealing. Well, you can't blame her because it's a tight fit! "Just like that…" our amateur girl moans, "Fuck me!" All of her dirty sex lines encourage the man to thrust even more roughly. One filthy endearment after another stream from Miss London's mouth, "Your dick is so big!" Wow, our realtor will be selling a house today in this porn video!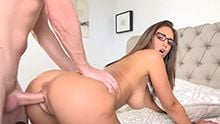 Don't you just adore sex with a pair of slick pussy lips?
Layla sure loves to talk dirty because she never stops her sexual encouragement. When he grabs the horny amateur woman by the neck, the girl submissively whimpers, "Make my pussy cum for you." then forcefully continues by saying, "Yeah, give me that cock! Spread it!" Then she asks an obvious question, "Do you like having sex with your slutty realtor?" Yeah, and everyone watching the porn scene does too!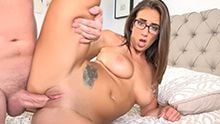 Pounding away at a slutty businesswoman's pussy.
Now the amateur businesswoman keeps her legs open wide for him by holding them up. That way, they stay totally spread so he may focus on thrusting deeper. "Unload on my tongue when you're about to bust…" she moans. Undoubtedly, the amateur porn clip keeps increasing its erotic intensity. Especially when Layla begs for a mouth full of cum at the end of our sex video!
Timestamps
Below are timestamps for easily navigating to sex positions in the scene.
Source of Porn Clips
Every video is from a premium porn source, and we've included info about adult stars in our clips.
Adult Star:

Layla London

Premium Site:

PornhubPremium

Full Movie Length:

46 Minutes